From Emily Anderson
CNN





NEW YORK (CNN) -- New York Deputy Mayor Ed Skyler took a hands-on approach to stopping crime Tuesday evening -- he tackled an apparent mugger after he heard a woman scream that she had been robbed, according to New York police.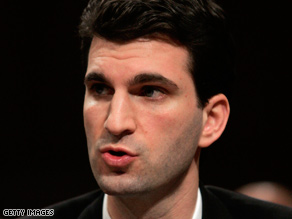 New York Deputy Mayor Ed Skyler aids Mayor Michael Bloomberg in managing several city agencies.
Skyler confirmed the incident Wednesday, saying he was walking to dinner in midtown Manhattan when he heard a woman screaming, "They're robbing me, they have my stuff!"
He said he saw a young man running down the street towards him, so stepped into the man's path and tackled him. The man was able to get away, Skyler said, but Skyler called police from his cell phone and then went back to check on the woman.
New York police said the 41-year-old woman's cell phone was taken, but it was dropped during the scuffle and ultimately recovered.

Watch Skyler talk about incident »
While the apparent mugger and as many as four teenagers with him all got away, Skyler looked at the incident with a sense of civic pride.
"Crime is down 15 percent this year, it's down 30-something percent over the past seven years," the deputy mayor said.
"And the police response time and the aggressiveness with which they pursued this investigation shows exactly why this city is safe, because when people try to commit these kinds of crimes they're pursued and caught. "
New York police said no injuries were sustained in the incident, and no arrests had been made Wednesday.

Skyler is the deputy mayor for operations. According to the city government Web site, he aids Mayor Michael Bloomberg in managing the police and fire departments, and he oversees agencies including the departments of transportation, buildings and sanitation.
When asked how Bloomberg reacted to word of his crime-fighting exploits, Skyler said, "He congratulated me, he was very gracious about it."
E-mail to a friend

All About New York City • Crime • Michael Bloomberg