By Kevin McKinnon
CNN





NEW YORK (CNN) -- A hearing has been scheduled for Wednesday morning to determine whether the attorney representing Bernard Madoff, the alleged mastermind of a $50 billion Ponzi scheme, has a conflict of interest with his client, according to a clerk in the U.S. District Court.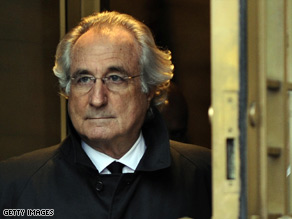 Bernard Madoff is under 24-hour house arrest in his Upper East Side luxury apartment.
Madoff's attorney, Ira Sorkin, confirmed only that the disgraced financier would be in court.
A source close to the legal discussions said there are potential conflicts for Sorkin.
His late father, Nathan Sorkin -- whose name appears on the prosecutions' list of Madoff customers -- had an account with Madoff, which upon his death was transferred to his wife. Upon her death the proceeds were distributed to her grandchildren. Ira Sorkin never received funds from the account.
The source also said that 17 years ago, Sorkin represented an investment firm, Avellino and Bienes, that had money invested with Madoff. That firm closed after the Securities and Exchange Commission sued it for being unregistered.
Madoff will appear tomorrow because he has to affirm that he was aware of these potential conflicts and that he has no problem with them.
The government has been aware of this information for months and does not have an issue with Sorkin representing Madoff, according to the source.
A spokeswoman for U.S. Attorney's Office, Rebekah Carmichael, declined to comment.
E-mail to a friend

CNN's Allan Chernoff contributed to this report
All About Bernard Madoff • John Malkovich