ORLANDO, Florida (CNN) -- An October trial date has been set for Casey Anthony, accused in the killing of her 2-year-old daughter, who was found stuffed in a plastic bag in a wooded area.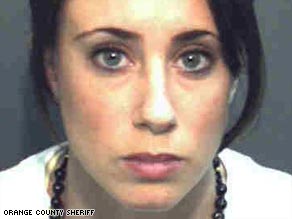 Casey Anthony is accused in the slaying of her 2-year-old daughter, Caylee.
The trial is scheduled to start October 12, a Florida judge decided during a court hearing Monday.
Anthony, 22, faces seven counts, including first-degree murder, in the death of her toddler daughter, Caylee.
The child was last seen in June. Casey Anthony reportedly waited about a month before telling her family the child was gone.
Cindy Anthony -- Caylee's grandmother -- called the Orange County sheriff July 15 after her daughter wouldn't or couldn't tell her where Caylee was.
Casey's brother, Lee Anthony, also pleaded with his sister to tell him where Caylee was. According to police documents, she replied that she hadn't seen Caylee in "31 days."
Pictures of Casey Anthony partying have added a sensational element to the case.

Watch how her defense team is dealing with the photos »
Caylee's remains were found in December in a wooded area about a half-mile from Anthony's Florida home.
Authorities said the child's remains were found in a laundry bag wrapped in a plastic trash bag, and her skull was wrapped in duct tape, according to police documents.

Police said they believe that the toddler was slain within days of the time she was last seen in June and that her body was in the trunk of her mother's car for "a period of time," according to documents released in February.
When she was notified at the Orange County Jail in December that the body had been discovered, Casey Anthony "allegedly had begun to hyperventilate and asked to be given some medication," a police report said.
E-mail to a friend

CNN's Natisha Lance contributed to this report.
All About Caylee Anthony • Casey Anthony