By Ann O'Neill
CNN





ATLANTA, Georgia (CNN) -- For more than a year, the criminal justice students jotted details of Chandra Levy's final movements onto a huge timeline taped to a classroom wall, culled the Internet and public records for scraps of information, and pored over the model skeleton laid out on a table in their lab at Bauder College in Atlanta, Georgia.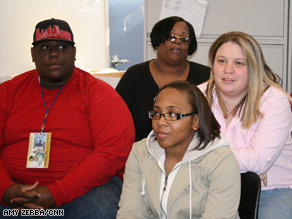 Antonio Wilson, from left clockwise, Lashaun Bates, Jennifer Gosdin and Charna-Marie Dixon.
They spent hours with the slain intern's mother, Susan Levy, who flew from her home in California to Atlanta just to talk to them. Chandra Levy had studied criminal justice in college, too.
They began with a list of five suspects, then narrowed it down to one. On December 28, they mailed their findings to the police chief in Washington, D.C. They never heard back.
But on Saturday, the text and phone messages began to fly. There's a suspect, they told each other with excitement. An arrest is imminent.
"It completely validates 15 months of work," their teacher, Sheryl McCollum, said that Saturday morning. "We knew this case was solvable. There was no reason for it not to be solved."

Meet the members of the campus crime club »
A week ago, the police chief in Washington, D.C., called Levy's parents and told them a suspect in the 2001 slaying soon would be arrested.
"I got a call from the Washington police department, just to give me a heads up that there's a warrant out for the arrest," said Susan Levy, the victim's mother. She added that police did not provide a name, but sources later identified him to CNN as Ingmar Guandique.
Guandique is serving a 10-year prison sentence for two assaults in Washington's Rock Creek Park that occurred around the time of Levy's disappearance. Levy's remains were found in the park.
Don't Miss
For the Bauder College students, the break in the case was no cause for self-congratulations. They can't disclose their findings to the public.
It's part of the deal they make at the start of each investigation. Even though they couldn't name their suspect, or even discuss details of what they found, they didn't carry themselves like people who had missed the mark when they met with CNN on Monday.
There were big smiles and, in more reflective moments, small tears.
Antonio Wilson and Jennifer Gosdin, two students who last year shared logs of their progress with CNN, said they hoped Levy's mother, father and brother can now find some comfort and peace. If they were able to help the Levys in some way, they are glad.
Wilson, who hopes to be a probation officer, said he got more out of the experience than he ever expected. "It's not my area, but I loved it," he said.
"Once you get involved in it, it becomes personal," Gosdin agreed.
For Naomi Barkley and La-Shawn Bates, the case got personal when they met Susan Levy. "You could see the hurt in her face," Bates recalled. "You can't help but want to make it right for her.
McCollum was in Florida with her family when the news of a suspect broke. She was on the phone with Susan Levy before the sun came up in California. Yes, Levy said, it's true, adding that she was grateful to the students for keeping people focused on her daughter's case, McCollum recalled.
McCollum worked as a victims' advocate in the criminal justice system in Fulton County, Georgia, for 25 years before taking a teaching job at Bauder College. In 2005, she launched the Cold Case Investigations Research Institute. It's a fancy name for a campus crime club.
The students aren't graded, and they don't receive class credits. But the payoff for the hours they invest includes hands-on experience working real cases and access to experts and criminal justice professionals.
Using real-life cases is the best way to groom the next generation of crime-solvers, McCollum believes.
Many of the 850 students at Bauder College juggle full-time jobs and families with their course work. About 80 of them are members of the crime club. They are joined by students at two other campuses: Auburn University-Montgomery and Faulkner University in Alabama.
Auburn students examined crime scene and geographic details, while Faulkner students delved into the victim's profile. The Bauder students focused on the suspects.
Past cases include Tupac Shakur, the hip-hop artist gunned down in Las Vegas, Nevada, and Wayne Williams, the man convicted in the Atlanta child murders case. Students found the Williams case solvable, but Shakur's slaying was ruled "undetermined."
The Levy investigation was deemed "solvable." It seemed to carry special meaning for the students.

"With Chandra, she was a criminal justice major at one time, and she had aspirations of going into the federal government; a lot of our students do as well," McCollum said at the outset of the project.
"The students became completely dedicated once they met the family members of the victims," McCollum said. "The victims are real people, the cases are real cases, and the research is real investigative work."
E-mail to a friend

All About Crime • Murder and Homicide