(CNN) -- The grandmother of a 16-year-old Arizona girl accused of prostitution -- and recruiting and pimping other teen girls -- said Wednesday she hopes to fight the charges in court.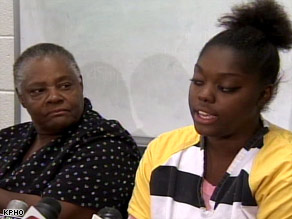 Grandmother Linda Tye wants to fight the charges against her granddaughter, Tatiana Tye, in court.
"I really want to take it to trial," Linda Tye, grandmother of Tatiana Tye told CNN Radio. "She needs to meet her accusers."
Tatiana Tye and a second 16-year-old girl, Jazmine Finley, were indicted earlier this week by a grand jury, Maricopa County, Arizona, prosecutors said in a statement. Although the girls are juveniles, prosecutors released their names and said they will be tried as adults.
Tye is charged with one count of child prostitution and three counts of pandering, or serving as a go-between or liaison for sexual purposes, prosecutors said.
Finley faces nine counts of child prostitution; two counts of receiving earnings of a prostitute; and one count of pandering. All the charges are felonies, prosecutors said.
The two were arrested last week after a five-month investigation, Phoenix police told reporters. Authorities believe Tye and Finley recruited at least five girls, ranging in age from 14 to 17, on the campuses of their high schools, police spokesman Sgt. Andy Hill said in a Monday news briefing posted on the Web site of CNN affiliate KTVK.
"We have a situation of two girls, 16 years old, who are, in essence, pimps," Hill said. "And they ran their own brothel."
Police believe the girls had rented an apartment used solely for acts of prostitution, he said.
Prosecutors, citing a police probable cause statement, said the teenagers recruited girls by telling them of "all the money they would be making. Additionally, they were told that it was better working for them as opposed to male pimps because they would not get beat up."
Hill said, "I think we were all surprised at, you know, were these 16-year-old girls that were arrested, were they running this business? And the answer is yes, they were."
In a jailhouse interview with KTVK, Tatiana Tye blamed Finley for introducing her to the world of prostitution, and said she was "a follower, not a leader, following whatever Jazmine does, and those were bad things."
She denied recruiting anyone or receiving any money, although she did acknowledge she was scared at times.
"All I'm saying is, before (Finley) came into my life, none of this stuff was going on," Tatiana Tye said. "I don't even know much about prostitution and stuff. I've seen it before, because Jazmine had a pimp."

Watch grandmother and granddaughter respond to charges »
However, she refused to answer questions about whether she had worked as a prostitute or about the apartment.
KTVK said it attempted to interview Finley, but her guardian failed to show up at the jail to give permission.
Accompanied by her grandmother, Tatiana Tye told reporters she didn't want to talk to them initially, but "then again, I thought about, people need to know the truth. I mean, I would never, ever call myself a pimp or a madam."
Asked what she would say to other teens, she said, "I would just tell them, don't hang out with people that you know are doing bad stuff, because they'll drag you down with them."
Linda Tye said she had custody of her granddaughter, who moved in with her after leaving her mother's home.
She said Tatiana Tye "admits to knowing Jazmine, hanging out and being with Jazmine. That she admits to. The rest, she doesn't really want to talk about before she goes to trial and talks to her lawyers."
As of Wednesday, she said, attorneys had only visited her granddaughter briefly, but longer visits are planned.
She said she is worried about Tatiana Tye's health in jail, as she is eating only grapefruit and refuses to drink the water. The girl's younger sister, 13, misses her and hasn't been able to see her, she said.
She told CNN she does not understand how prosecutors can try her granddaughter as an adult.

"I want (people) to know that my little granddaughter, she is a loving person. She smiles all the time ... she's a little confused, but that's no reason, and people shouldn't sit and judge people. I just don't like that. You don't know the facts, you don't know the truth, don't do that," Linda Tye said.
But asked whether she had any advice for others, she said, "Pay attention to your kids. If you're a grandparent, pay attention to your grandchildren, because you never know what they're up to. This is a big mess, and that's what it is."
E-mail to a friend

CNN Radio's Ninette Sosa and Barbara Hall contributed to this report.