(CNN) -- A 24-year-old teacher from Holyoke, Massachusetts, is in custody after allegedly leaving town with a 15-year-old student, city officials said Tuesday.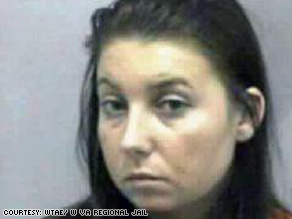 Lisa Lavoie, a 24-year-old teacher, is charged with enticement of a child.
Lisa Lavoie and the male student were found in Morgantown, West Virginia, Monday night after apparently being together for a week, Holyoke Mayor Michael Sullivan said.
Investigators have charged Lavoie with enticement of a child.
On February 13, the student's parents informed school officials of a possible relationship between the teacher and their son. That was late on a Friday afternoon, and when officials went to the school to question Lavoie, she was gone for the day. The next week was a vacation week for the school.
The student was reported missing on February 16, at the start of the vacation week. Lavoie wasn't reported missing until she didn't show up for school Monday.
Officials said the pair were in Vermont on Thursday before showing up in West Virginia on Monday. No details were provided on how their alleged movements were traced.
Officials couldn't take the pair into custody until after gathering enough evidence to obtain a warrant from the district attorney's office, said Holyoke Police Chief Anthony Scott. They got the warrant Monday and asked police in Morgantown to arrest Lavoie.
She has been placed on administrative leave pending conclusion of the investigation, Sullivan said.
If convicted, Lavoie could lose her teaching license in Massachusetts, the mayor said. She has been with the school only five months and her job is not protected under contract, he said.
E-mail to a friend

All About Holyoke