By Chris Welch
CNN






MINNEAPOLIS, Minnesota (CNN) -- Four years ago, Roger and Jane Hargens were told that their 24-year-old son, Ryan, was dead. It was a gunshot wound to the head, and it was a suicide; at least that's how it was originally labeled.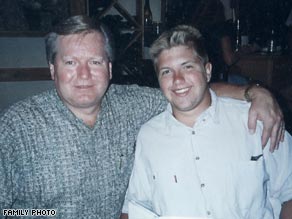 Roger Hargens spoke with his son, Ryan, just hours before police say Ryan took his own life. He saw no red flags.
It didn't fit, Roger Hargens thought, recalling the last time he spoke with his son. It was on the phone, just hours before police say Ryan Hargens died. He seemed fine.
"We had a good conversation and ended it like we always did. I told him, 'I love you, son,' and he said, 'I love you, too, Dad," Hargens said, adding that he knew Ryan had later gone out with work friends to celebrate a good month at work.
Ryan Hargens lived in Sioux Falls, South Dakota, and worked at Wells Fargo Bank. He was planning to move back to Iowa to be near his parents, who live in Johnston, just outside Des Moines.
"Everything up to that point was normal," Jane Hargens said.
So normal, in fact, that they weren't willing to accept it when police said Ryan may have killed himself. They think it was a homicide.
The couple hired private investigators and a criminologist and even made the painful decision to have Ryan's body exhumed. They said they've come up with more than enough evidence to persuade the proper authorities of foul play.
Although the Hargenses hired their own experts, there are other options for families who want a second opinion when a son or daughter dies under questionable circumstances, said Nancy Ruhe, executive director of the National Organization of Parents of Murdered Children.
Ruhe says that in cases in which a death is labeled a suicide but the family believes otherwise, her group offers what it calls a Second Opinion Service.
"Parents know their children," Ruhe said. "So when a family has a suspicion that the police are wrong, we take that very seriously."
The Hargenses have not taken advantage of the SOS program. But their criminologist, John Cayton, contends that the ballistics of a suicide don't match up. The Hargenses and their experts say there was no evidence of blood on the gun, which would be typical of a suicide.
Upon reviewing their findings in summer 2007, the county coroner changed the ruling from suicide to "undetermined." But the Hargenses said that wasn't good enough.
They made numerous requests to the Sioux Falls Police Department for more evidence pointing to the suicide ruling and asking to reopen the case. They said they were told they'd never see anything else.
"The cooperation has been difficult," Roger Hargens said, "especially when you're asking politely and kindly. And, yes, we're grieving parents, but we're asking in the polite way, in writing and on the phone, for information, because nothing makes any sense in this case on our son."
Sioux Falls Police Department spokesman Sam Clemens said that if any credible leads surface, regardless of who brings it to his attention, police will investigate further.
In a statement on the police department's Web site, the office asserts that the state attorney general, the state's division of criminal investigation, the state's homicide unit and the FBI have all done reviews.
"The FBI has reviewed this case twice at the request of the Hargens family and is in the process of completing a third review," the statement reads. "Each of these law enforcement entities, after their independent review, has concluded that nothing is inconsistent with Ryan Hargens committing suicide."
On February 4, the fourth anniversary of Ryan's burial, the Hargenses told their story to the media for the first time, pleading for support for their next move: asking South Dakota's U.S. attorney to convene a federal grand jury to examine the facts of the case.
"Our goal is to get justice for Ryan and to make sure it doesn't happen to anybody else," Roger Hargens said.
"People have gotten away with it, and Roger and I are not going to stand for it," Jane Hargens added.
Emotionally, the Hargens family is drained. But they say they'll keep fighting. They've placed ads in newspapers and are offering reward money.
"It's four long years and a mountain of evidence. We have five big boxes of facts, evidence, investigative reports, that are all pertinent to this case," Roger Hargens said. "This is what needs to go in front of a federal grand jury. They can solve this very quickly to get to the truth and get justice for our son, Ryan. We feel there's killers walking the streets."
Ruhe said that for a fee, the SOS program will do for other families what the Hargenses did for themselves.
SOS will hire independent forensic pathologists, firearms experts and legal experts to investigate even further, Ruhe said. She estimated that 40 percent of the cases that come to her group for a second opinion are thought to be a homicide rather than a suicide after expert analysis.
Even when the research turns up nothing new and experts still label it a suicide, it still helps families, because they can know why, Ruhe added.
"Most police departments and medical examiners' offices, they don't explain that," she said. "They just rule it suicide. So you have all these unanswered questions."
Beth Warnock, program coordinator for the Second Opinion Service, said more people are giving cases a second look as the service gains a reputation through its Web site and word of mouth.
"At the very beginning, we got maybe three or four a year," she said. "Then it progressed to maybe six or 10 a year. And I think the real interest was when the Web site started ... because now we probably get over a hundred a year."
Ron Ward of Marshall, Arkansas, knows about fighting for answers. It's been almost 20 years since his 16-year-old daughter, Janie, died. Her death was labeled "undetermined."
"It's taken a lot of happiness from us," Ward said. "I mean, we've not been able to have any sort of closure."
Janie had fallen off a step less than a foot high at a party, and he and his wife, Mona, are convinced there was foul play involved.
After 15 years of asking the police for another autopsy, the Ward family decided to have an independent autopsy done in 2004 though the help of the SOS program. A forensic pathologist concluded that Janie had a broken nose, a black eye, bruises inside her neck and a blow to her face that fractured her neck.
"This don't fit in with no backwards fall off of a porch," Ward said.
In 2005, a special prosecutor appointed by the state conducted a third autopsy and, Ward said, declared that it was not a homicide and that there was no soft-tissue damage to Janie's face. Ward believes that the prosecutor wasn't telling the whole truth.
Ward added that he has yet to see the special prosecutor's file from his analysis, and he said he awaits a ruling from a district judge as to whether her death could be labeled a homicide.
"We can't turn the page and walk away, because that was our daughter, and we want to know what happened to our daughter," he said. "It's very frustrating. We live with it day in and day out."
"We'd like to say, 'Well, we know what happened to our daughter now' and try to heal and get on with life. We can't do that, because we've got to pursue justice for our child."
Ward says the only people who can truly identify with him are other who've lost a child, like the Hargens family.
"It's hard," Ward said. "Unless someone experiences something like this, they can't possibly conceive or understand the overwhelming desire to know the truth."
He values the help he receives from PMOC.
"They're a great support group. You can identify with people who experience things that you have, the loss of a loved one," Ward said. "Until you've dealt with it, it's just hard to explain."
The Hargenses know they could still have a long road ahead of them.
"This isn't just grieving parents," Roger Hargens said. "Of course, we'll always be grieving. When you lose your son and a great, great kid, you know, you never get over that."
And Ron Ward hopes the Hargenses get answers quicker than he has.
"I would not want anybody to go through this, what we have suffered through these last 20 years."
And now, both families wait -- one for a possible grand jury and one for a judge's decision.
E-mail to a friend

All About Murder and Homicide • Suicide • Crime