(CNN) -- The father and grandmother of a missing 5-year-old Florida girl pleaded Thursday for her return, and said police had uncovered some promising leads.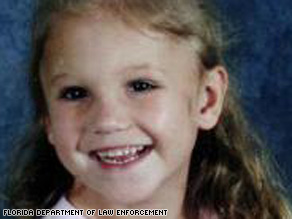 Haleigh Ann-Marie Cummings, 5, who vanished last week, may have been abducted, police say.
"They did bring up some good leads," said Teresa Neves, the grandmother of Haleigh Ann-Marie Cummings, who has been missing for more than a week.
"We're very hopeful that one of those is going to pan out," Neves said at a news conference in Palatka, Florida, with Ronald Cummings, the girl's father. Both wore shirts printed with Haleigh's photograph.
Neves said she didn't know any details about the leads, just that police had indicated there were "several."
Cummings brushed off questions about his girlfriend, Misty Croslin, who reported Haleigh missing.
Capt. Dick Schauland of the Putnam County Sheriff's Office said Wednesday police were investigating whether Croslin, 17, was home when the girl disappeared.
Croslin told police she was watching Haleigh when she disappeared sometime before dawn on February 10 from Cummings' home. Cummings shares his double-wide mobile home with Croslin, daughter Haleigh and his 4-year-old son in the town of Satsuma, east of Gainesville.
Cummings said Thursday he believes Croslin was telling the truth and urged reporters to focus on his daughter.
"We need to focus on my daughter going missing, and not what's going on in my life besides my daughter going missing," he said.
Cummings has said that when he returned home at 3 a.m. ET on February 10, he was surprised to see his girlfriend awake and asked her why she was up.
She told him she awoke to find the trailer door open and discovered that Haleigh was missing. Croslin waited until Cummings came home to phone 911 about the girl's disappearance, though it's unclear how long that wait was.
Police said last week that Croslin had tucked the girl and her brother into bed at 8 p.m. before going to sleep at 10 p.m. The girl, boy and Croslin usually sleep in the same bed.
Officials originally thought the 5-year-old may have wandered outside on her own, but now believe that she was abducted.
Investigators say they are looking into various angles of the case.

Watch the grandmother pour her heart out to Nancy Grace »
"We are working leads now," Putnam County Sheriff Jeff Hardy said Thursday. "We have people we are interviewing. We are doing polygraphs. We have some new leads that have come in and we are going go ahead and follow up on all of them."
He said police had arrested a sexual predator who lives a mile from Haleigh for violating a curfew, and he did not believe the man has any "direct link" to the girl "as far as being able to put him anywhere near her residence." The man wears a global positioning system device, Hardy said.

Earlier this week police announced that they have changed the Amber Alert they originally put out for the girl.
They originally said she was wearing a pink shirt, but the shirt has since been found, police said Wednesday.
E-mail to a friend

All About Missing Children • Ronald Cummings