(CNN) -- Police searching for a missing 5-year-old girl are investigating whether the woman who reported her gone was at home at the time the girl vanished, an officer working on the case said Wednesday.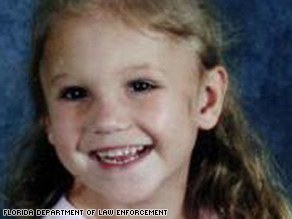 Haleigh Ann-Marie Cummings, 5, who vanished last week, may have been abducted, police say.
"It's a tip we're following up on," Capt. Dick Schauland of the Putnam County Sheriff's Office in Florida said.
He was responding to a question about a report that Misty Croslin was not home after Haleigh Ann-Marie Cummings was last seen on the night of February 9.
Croslin, 17, is the girlfriend of Haleigh's father, Ronald Cummings.
The police officer rebuffed a question about whether Croslin had changed her story about where she was when the girl disappeared, though he called the tip "a very important one."
"I don't know that you can say her story is changing," Schauland said. "I don't know if it's a true tip or not. It may not be valid."

Watch how teen's account now questioned »
He said Haleigh's father's alibi, that he was at work, had been confirmed.
Authorities said earlier they believe girl was abducted.
Since opening the case a week ago, the Putnam County Sheriff's Office has received more than 1,200 tips about the missing girl.
Croslin told police she was watching Haleigh when she went missing sometime before dawn last Tuesday. Cummings shares his double-wide mobile home with Croslin, daughter Haleigh and 4-year-old son in the town of Satsuma, east of Gainesville. He has said that when he returned home at 3 a.m. ET, he was surprised to see his girlfriend awake and asked her why she was up.
She told him she awoke to find the trailer door open and discovered that Haleigh was missing.
Croslin waited until Cummings came home to phone 911 about the girl's disappearance, though it's unclear how long that wait was. Police said last week that Croslin had tucked the girl and her brother into bed at 8 p.m. before going to sleep at 10 p.m. The girl, boy and Croslin usually sleep in the same bed.
Officials originally thought Haleigh may have wandered outside on her own, but are now certain that she was abducted.
Investigators are looking into various angles of the case, including finding out the location of 44 registered sexual offenders who live within a five-mile radius of the Cummings home, said Lt. Johnny Greenwood of the Putnam County Sheriff's Office.
Late Tuesday police announced that they have changed the Amber Alert they originally put out for the girl.

They originally said she was wearing a pink shirt, but the shirt has since been found, Schauland said Wednesday.
"Now what we need people to focus on is the face because we do not know at this time what the clothing was at this point," said Dominick Pape, with the Florida Department of Law Enforcement.
E-mail to a friend

All About Missing Children • Ronald Cummings