NEW YORK (CNN) -- Juliana Redding was 21, an aspiring actress and model who, like so many others before her, had moved from Arizona to southern California in pursuit of the Hollywood dream. She wound up the victim in a real life murder mystery -- one few people are willing to talk about in any detail.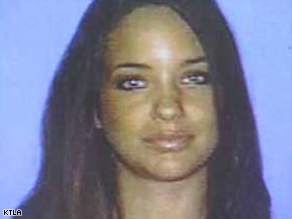 Juliana Redding, an aspiring model and actress, was found murdered in her Santa Monica apartment.
By the age of 18, Redding had earned her first film credit, appearing in a 2005 independent film called "Kathy T Gives Good Hoover," about college students and the graffiti culture.
In 2006, she moved into a one-bedroom apartment in Santa Monica, California, with her pet Yorkshire terrier.
She was also taking college courses while working part-time in a trendy Venice Beach bar.
Friends grew worried in March when they couldn't reach Redding for a few days. They called her mother in Redding's hometown of Tucson, Arizona. Her mother called the Santa Monica police.

Watch why this case is so baffling »
Police found Redding dead inside her apartment. "The manner of death is homicide," said Sgt. Rinaldi Thruston of the Santa Monica Police Department.
Although there are unconfirmed reports that the cause of death was blunt force trauma, the Los Angeles County Coroner's Office denies that. "Those media reports are not accurate. The cause of death was not blunt force trauma. The file has been sealed by police, so we cannot disclose the actual cause of death."
Police also would not disclose whether a weapon was used or whether Redding's apartment had been broken into, which would give clues as to whether she knew her assailant and opened the door for him or her.
Thruston also refused to say whether Redding had been sexually assaulted.
"We have made no arrests in this case nor do we have any suspects or persons of interest at this time," Thruston said.
He said police have collected evidence from the crime scene that could link a potential suspect to the crime. Police are hoping they will continue to get tips and leads from the public.
According to friends, Redding had been dating another actor for two years and they had broken up about six months before her slaying, but remained friends.
It is unclear whether she had a new boyfriend, but police have been interviewing all of Redding's known friends and neighbors.
"We believe the police are doing what they can to solve this case, but we really prefer no media attention," her mother said.
Don't Miss
Early in the investigation, there were reports of blood found on the sidewalk or wall outside Redding's apartment.
Police will not comment on the forensic results of that blood or any specific evidence at the crime scene. They also will not reveal whether any of Redding's neighbors heard screams or other sounds of a struggle.

At this point, there are more questions than answers.
If anyone has any information leading to the arrest of the person or persons responsible for Juliana Redding's death, please call the Santa Monica Police Department tip line at (310) 458-8449.
E-mail to a friend

All About Murder and Homicide • Nancy Grace