By Lisa Respers France
CNN






(CNN) -- Shocking paternity results! Scorned lovers! Spouse swapping!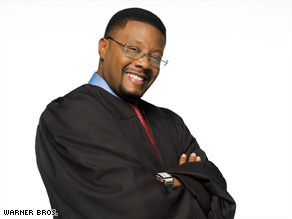 Judge Greg Mathis helms one of the more popular court shows, which has been on the air for more than a decade.
Once the exclusive fodder of soap operas and daytime talk shows, the titillating topics now are standard fare for men and women who wear robes and pound gavels.
Television courtroom shows are everywhere during the daytime, much to the delight of fans who can't get enough of judges taking litigants to task. They even cross the border.
"I've found that even in Canada, and we are feeding off of the American television stations here, you can pretty much get up at 8 o'clock in the morning and watch judging shows continually without interruption until 6 o'clock in the evening," said Steven Kohm, an assistant professor of Criminal Justice at the University of Winnipeg.
He has examined the appeal of courtroom programs in his academic research.
With its mix of small claims, outspoken judges and often outlandish litigants, the programming has become so popular that last year the National Academy of Television Arts and Sciences added outstanding legal/courtroom program to its Daytime Emmy Awards categories. The inaugural award went to "Cristina's Court."
The format has come a long way since the early 1980s, when the granddaddy of them all, "The People's Court," premiered, thrusting the show and its silver-haired arbiter of justice, Judge Joseph Wapner, into the limelight.
Now a cadre of shows including "Judge Judy," "Judge Joe Brown," "Judge Alex," and "Divorce Court" are keeping viewers tuned in for a daily dose of justice.
"The People's Court," ruled over by Judge Marilyn Milian, is produced by Telepictures Productions (a division of the parent company that also owns CNN).
The show is the longest running of Telepictures' courtroom programming, which includes "Judge Mathis" and newcomer "Judge Jeanine Pirro."
Hilary Estey McLoughlin, president of Telepictures Productions, said 24 court shows have launched since the debut of "The People's Court." Thirteen of those are no longer on the air, she said.
From a business perspective, she said, such shows are affordable to produce and audiences find them entertaining and informative.
"When you look at the daytime environment, it is largely driven by distinctive personalities and compelling storytelling and court shows have both," she said.
Judge Greg Mathis recently celebrated a decade on the air.
Known for his "gang to gavel" background, having risen from a troubled childhood to Michigan District Court judge, Mathis said he believes shows like his help educate viewers about the legal system.
"I hear that all the time in the community, that they've learned so much," he said. "They know what evidence to bring into court and they quote the law to their friends and family. In my observation, I would call that bootleg lawyering."
Nancy B. Rapoport couldn't disagree more. The shows, with their bombastic jurists, are not realistic, said Rapoport, whose title -- Gordon Silver professor of law at the University of Nevada, Las Vegas' William S. Boyd School of Law -- could fill the docket sheet.
"They so don't behave the way real judges do, that for me it's like nails on a chalkboard," she said. "Real judges, except for the ones that end up getting disciplined, don't on an unprovoked basis yell at litigants. They try to uphold the dignity and decorum of the court."
Kohm, the Canadian professor, said the shows are theatrical examples of the tradition of crime and punishment: Those who exhibit bad behavior are publicly reprimanded, in some cases very dramatically.
"I think there's a long-standing belief, certainly in the American context, in this notion of do-it-yourself justice," Kohm said. "The idea that you can take your problems to a court and have a fair hearing in front of an objective third party is really embedded in the American ideal of democracy."
Mary Ann Cooper has followed the programming for years and has written about "Divorce Court" for TV Week, an industry trade magazine.
Cooper said that while she doesn't believe TV court shows are making viewers more law savvy, she does believe they may be teaching lessons of fairness and personal responsibility.
With their public airing of dirty laundry and bad behavior, the programs will continue to be rubbernecked on the highway of reality television, Cooper predicts.
"In many cases, it's like the appeal of a train wreck," she said. "People are watching, in some cases, people getting their heads handed to them and [the viewers] are captivated."
E-mail to a friend