(CNN) -- Shortly after pleading guilty in federal court to a misdemeanor count of lying to Congress about his knowledge of a former teammate's use of performance-enhancing drugs, baseball player Miguel Tejada apologized -- to everyone.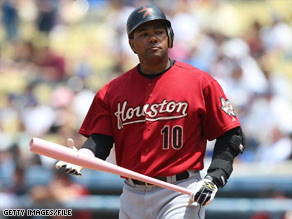 Miguel Tejada, a shortstop for the Houston Astros, pleaded guilty to lying to Congress.
"I made a mistake, and now I know how serious a mistake that I made," the Dominican shortstop told reporters, wiping tears from his eyes.
"I'm sorry to my family, to the Congress, to the Houston Astros," he said. "I apologize to the whole United States, because this country give me an opportunity to be who I am, and the last thing that I want to do is let this country down."
Tejada's lawyer, Mark Tuohey, underscored that there is no allegation that his client had used performance-enhancing drugs.
Although Tejada, 34, could be sentenced to as much as a year in prison, a news release from U.S. Attorney Jeffrey A. Taylor's office said his sentence is more likely to range from probation to six months behind bars.
Sentencing is set for March 26, a date Tuohey said was chosen so as not to interfere with the baseball season.
Tejada admitted that he lied to congressional investigators during an August 26, 2005, interview in which he said he "had no knowledge of other others players using or even talking about steroids or other banned substances," according to the release.
After the December 2007 Mitchell Report on steroid use in baseball, which appeared to contradict Tejada, the House Committee on Oversight and Government Reform asked the Justice Department to investigate whether Tejada "made knowingly false statements to the committee."
According to court documents, Tejada admitted that he discussed steroids and human growth hormone with a teammate in 2003, while he was with the Oakland Athletics. He also admitted that he bought more than $6,000 worth of HGH from the teammate but added that "he had second thoughts and ... simply discarded them," the documents state.
"We believe that the court will sentence Mr. Tejada to a term of probation," Tuohey said.
He predicted that the plea would not affect the immigration status of Tejada, who is a permanent resident alien.
Tejada's guilty plea came days after another major league star, Alex Rodriguez, the New York Yankees' third baseman since 2004, admitted that he used a "banned substance" during the 2001-03 seasons.
Sports Illustrated reported that Rodriguez tested positive for steroids in 2003, when he was playing for the Texas Rangers.
E-mail to a friend

All About Miguel Tejada • Major League Baseball