ORLANDO, FLorida (CNN) -- Relatives of slain toddler Caylee Anthony spoke at her public memorial service Tuesday, recalling a little girl who was full of life and love and expressing their grief at her death.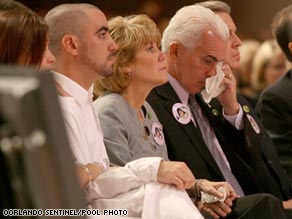 Lee, Cindy and George Anthony occupy a front row pew at a memorial for slain toddler Caylee.
"Sure, Caylee might be in God's heaven right now, but her presence is still at home with me every day," said George Anthony, the girl's grandfather.
"I can close my eyes and I can see her coming from her bedroom with her silly little glasses on, her beads, whatever it might be, to make me laugh.
"She was a comedian to me," he said.

Watch the grieving grandfather's eulogy »
An estimated 1,100 mourners -- many of whom have never met Caylee -- gathered at the First Baptist Church of Orlando to honor her.
Absent, however, was the girl's mother, Casey Anthony, 22, who faces first-degree murder charges in the toddler's death. Jail officials said Casey Anthony was meeting with her attorney while the service was taking place and did not ask to watch it on television.

Watch why she opposed the public service »
Both the Anthonys expressed support for their daughter. George Anthony asked those present to withhold judgment, to pray for his daughter and to write her letters. "I miss my daughter, Casey," he said.
Cindy Anthony, Caylee's grandmother, said one of the things she misses most is watching the love Caylee shared with her mother.
"It breaks my heart that Casey's not with us today to honor the child she loves so very, very much," she said. Speaking to her daughter, she said, "I love you, and I wish I could comfort you right now. ... Caylee was so much like you. She got your beauty and your compassion, and she got your spirit."
She asked mourners to stay hopeful. "Hope is what we need more of. With hope, we can concentrate on our faith. Faith is why I stand before you today with a smile."
Casey's brother, Lee Anthony, said his family is "incomplete" and the loss of Caylee has left him broken. He spoke in defense of his jailed sister.
"If I could ask something from anybody that was willing to hear it, it would be this: For those of us that are frightened or angry or mournful or that just don't understand, I ask that you fill your heart with patience and grace, and that you allow yourself to yield any judgments that you may already have," he said.
He continued, "For those of us who will never be the same again, I ask that you fill your heart with hope and forgiveness and you allow yourself to cope and heal."

Watch Caylee's uncle talk about his loss »
But mostly, the Anthonys spoke about Caylee, a little girl with a big spirit who called her grandparents "Cee Cee" and "Jo Jo," loved green beans, Bambi movies and singing and dancing.
"She cherished not only the time that I had with her but cherished every day that she was around each and every one of us," George Anthony said.
Cindy Anthony remembered Caylee coming to wake her up on Sunday mornings. "Her face would be right in my face, 'Cee Cee, wake up,' and she'd be right there," she said, holding her hand just in front of her face. She said she missed swimming in the pool with Caylee and talking with her on the phone.

Watch Cindy Anthony sing, talk, and grieve »
Caylee was 2 when she was last seen in June. Her remains were found in December in a wooded area about a half mile from the Anthonys' home. Authorities said her remains were found in a laundry bag wrapped in a plastic trash bag, and her skull was wrapped in duct tape, according to police documents.
"I believe today Caylee's home," said the Rev. David Uth, pastor of the First Baptist Church of Orlando, where the public memorial service was held. "I believe today she's there. My goodness, if she could step into this room for just a moment, in a childlike way she would tell us ... she would jump up and down to somehow ... show us the incredible place that heaven is."
A picture of the smiling mother and daughter was among those in front of the church's altar, sitting next to a candle lit by Caylee's grandparents during the service, along with a large picture of Caylee, a teddy bear and other items. The program featured many songs, a fitting tribute for a little girl who, according to her family, loved music. A slideshow of Caylee as a baby and a little girl was played.
Uth and the Rev. Shane Stutzman, pastor of Eastside Baptist Church, acknowledged that many people may have questions -- some of which may never be answered. But both urged mourners to trust in God.

Watch mourners pay tribute to Caylee »
"He has the answer. Let the peace that surpasses all your understanding hold you now in the palm of his hand," Stutzman said. "I don't think we understand all the things he could show us right now, but I know that he understands us."
The Anthonys released doves at the end of the service. Mourners gathered outside the church afterward to talk and embrace.
The service took place amid heavy security -- attendees had to pass through metal detectors, and were not permitted to carry bags inside.

"We feel like we know this little girl," said Sandra McKeller, who drove six hours from Georgia to attend. "We need this day for closure. Today is about Caylee."
A large makeshift memorial remains at the site where a meter reader found the girl's remains.
E-mail to a friend

CNN's Natisha Lance and John Couwels contributed to this report.
All About Caylee Anthony • Casey Anthony • Cindy Anthony