(CNN) -- The man who opened fire in a Tennessee church during a children's play last July, killing two people and wounding six, pleaded guilty Monday in a deal that allows him to avoid the death penalty.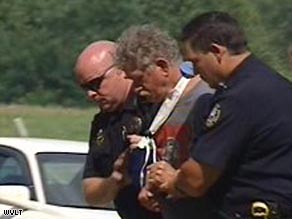 Police lead Jim Adkisson to a squad car shortly after the Knoxville, Tennessee, church shootings in July.
Jim Adkisson, 58, will face life in prison without parole, court officials said.
In court papers, prosecutors called Adkisson's crime an act of terrorism.
He was charged with two counts of first-degree murder and two counts of felony murder in the deaths of the two congregants at the Knoxville church. He also was charged with six counts of attempted first-degree murder.
There were no children among the casualties.
Among those in the courtroom for Monday's hearing were members of the Tennessee Valley Unitarian Universalist Church who were there when Adkisson began shooting.
"When he first came out into the courtroom, he had a look of sheer evil, he really did -- evil as well as arrogance," the church's music director, Vicki Masters, told CNN affiliate WVLT-TV in Knoxville.
"And he sat down after he looked around, and then he used his third finger to scratch the back of his head, with an air of arrogance and just pure evil. Those are the only words I can use to describe what I saw."
John Bohstedt, who wrestled the gun from Adkisson's hand to stop the shooting spree, said, "I'm sickened that he shows no signs of remorse."
Adkisson's attorney, public defender Mark Stephens, said, "He pled guilty to everything he was charged with. He accepted his responsibility. I'm sorry for those folks that went through that ordeal."
Reports suggested that Adkisson had considered an insanity defense. Bohstedt said that argument would have held no water. "He made a plan, carried it out in detail, left a detailed letter and it's consistent. It's coherent. There's no insanity defense that I can see. Unbalanced? Yes. Bitter? Yes. Evil? Yes. Insane? Not in our ordinary use of the word."
Adkisson told the judge he is "guilty as charged."
In a court filing about the state's decision to seek sentences of life without parole, District Attorney General Randall Nichols said that Adkisson "knowingly created a great risk of death to two or more persons other than the victims murdered" and that the murders "were committed in the course of an act of terrorism."
According to court papers, Adkisson told police he targeted the church because of its "liberal teachings."
Adkisson told police that he believed "all liberals should be killed," investigators said in a search warrant filed in the case.
Police said they found a four-page letter in Adkisson's car in which he described his motivation. In that letter, he also expressed hatred for gay people, police said.
Adkisson fired three rounds from a 12-gauge shotgun before members of the congregation tackled him, authorities said.
"Nothing much was going through my mind except to get the gun," Bohstedt told WVLT on Monday. "I went to get my hands on the gun, and I got my hands on the gun. And the minute I got my hands on the gun, the other guys hit him, and we were down on the floor in a second and a half."
Greg McKendry, 60, and Linda Kraeger, 61, were killed. All the wounded ultimately were released from a hospital.
The Rev. Chris Buice, the church's minister, who was not there at the time of the shooting, was in the courtroom Monday.
"It feels like the beginning of closure of one part of our trauma recovery," he told CNN. "We're remembering the people who died and the wonderful way they lived and the powerful example they continue to have."
Buice described McKendry as "a wonderful man" who loved cooking and big social events and had "a larger than life personality." And Kraeger, Buice said, was a beloved author whose work is now featured on a shelf in the church's library, which is dedicated to her. The social hall is dedicated to McKendry.
Despite the horror experienced by those who were there during the shooting, as well as the whole congregation, Buice said, "What is most remarkable is the lack of bitterness or resentment."
Police said Adkisson's note made clear he was upset over being unable to obtain a job. Divorce documents filed in 2000 list his job as a motorcycle mechanic. Documents filed in the divorce also said Adkisson was accused of threatening to "blow [his wife's] brains out" and then his own.
Investigators looking into the church shootings discovered a letter from the state government telling Adkisson his food stamp allotment would be reduced or eliminated.
Masters said McKendry could have helped Adkisson.
"If anyone could have helped this man -- who hated Democrats and was on food stamps -- to get his life together, it was the man that he brutally murdered at the door," she said.
E-mail to a friend