(CNN) -- Federal, state and local authorities have followed more than 100 leads in a bombing that left an Arkansas doctor critically injured, but the case is far from being solved, investigators said Friday.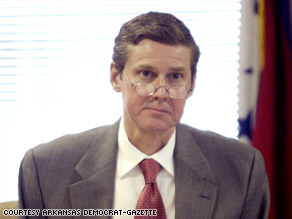 Dr. Trent Pierce is well-liked and a pillar of the West Memphis, Arkansas, community, sources say.
"We've just begun this investigation. We have much work to do in the weeks and probably the months ahead," West Memphis, Arkansas, Police Chief Robert Paudert said at a news conference.
Family practitioner Dr. Trent Pierce, 54, remained in critical condition Friday at the Regional Medical Center in Memphis, Tennessee, hospital officials said.
"He responds to his wife's voice," Paudert said. "He's recovering, [but] he's basically unconscious. He can't speak, and both eyes are bandaged."
Pierce was undergoing surgery Friday for a broken leg and broken wrist, and doctors were beginning skin grafts on shrapnel wounds, Paudert said.
The explosion occurred about 8 a.m. Wednesday after Pierce went out to start his Lexus hybrid SUV to warm it up at his West Memphis, Arkansas, home. The blast -- heard a mile away -- threw him six feet into a flower bed, police said.
Pierce lost his left eye in the explosion and required surgery to save his right eye.
Neither Paudert nor Stuart Lowery, assistant special agent in charge for the New Orleans, Louisiana, office of the federal Bureau of Alcohol, Tobacco, Firearms and Explosives, indicated any advances in the investigation Friday.
Hot line
The ATF is asking anyone with more information on this case to call its hot line at 888-ATF-BOMB.

"We've received slightly more than 100 leads," Lowery said. "As we said early on, it's a broad spectrum of things we look at. It takes a while to narrow that spectrum down, and that's what we're doing."

Paudert countered reports quoting him as saying the case was at a "dead end."

"I never said that," he insisted. "We wouldn't have 30 or 40 agents here if we were near a dead end."

The federal agencies are the lead investigators in the case.

E-mail to a friend

All About Bureau of Alcohol, Tobacco, Firearms and Explosives • West Memphis