By Allan Chernoff
CNN Senior Correspondent





NEW YORK (CNN) -- Harry Markopolos, the fraud investigator whose efforts to blow the whistle on investment adviser Bernard Madoff were rebuffed by the Securities and Exchange Commission, Thursday presented the SEC's inspector general with evidence of two new cases of potential investment fraud.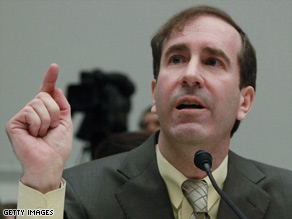 Harry Markopolos testifies before a House subcommittee on Wednesday.
"Pursuant to an agreement with him, I've handed those tips to the office of the [SEC] Chairman Mary Shapiro," SEC Inspector General David Kotz said. Kotz said he could not elaborate on the tips from Markopolos.
Kotz and members of his staff met with Markopolos and two of his attorneys for seven hours Thursday as part of Kotz's investigation into the SEC's failure to uncover Madoff's alleged scam. Madoff was arrested on December 11 on suspicion of running a multibillion-dollar Ponzi scheme.
"[Markopolos] is a key witness in our investigation," Kotz said. "It was a very productive meeting. We received a tremendous amount of good information."
Kotz said he is still months away from issuing a report on the SEC's performance in the Madoff matter.
Testifying before the House Subcommittee on Capital Markets on Wednesday, Markopolos slammed the SEC's failure to heed his warnings that Madoff was a fraud.
"I gift-wrapped and delivered the largest Ponzi scheme in history to them, and somehow they couldn't be bothered to conduct a thorough and proper investigation," Markopolos said.
Don't Miss
Madoff is under 24-hour house arrest at his luxury apartment on Manhattan's Upper East Side.
A former chairman of the Nasdaq stock market, Madoff told FBI agents he had operated a scheme that may have cost investors $50 billion, according to a criminal complaint. He has been charged with one count of securities fraud, which carries a maximum sentence of 20 years in prison.
E-mail to a friend

All About Bernard Madoff • U.S. Securities and Exchange Commission