(CNN) -- Mystified why a bomber would critically injure a beloved Arkansas doctor who heads the state medical board, investigators Thursday tracked more than 50 leads and were reviewing the medical board's actions, authorities said.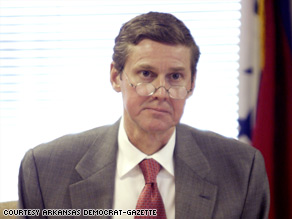 Dr. Trent Pierce is well-liked and a pillar of the West Memphis, Arkansas, community, sources say.
Family practitioner Dr. Trent Pierce, 54, was in critical condition Thursday evening at the Regional Medical Center in Memphis, Tennessee, hospital officials said.
The explosion occurred about 8 a.m. Wednesday after Pierce went out to start his Lexus hybrid SUV to warm it up at his West Memphis, Arkansas, home. The blast -- heard a mile away -- threw him six feet into a flower bed, police said.
Pierce lost his left eye in the explosion, and underwent surgery aimed at saving his right eye. He also had surgery to remove shrapnel from his neck and abdomen, and he was being treated for burns.
West Memphis Police Chief Robert Paudert told reporters Thursday authorities don't know whether Pierce was the intended victim.

Watch how the case stumps authorities »
"It's a mystery to all of us why someone would target Dr. Pierce, if he was targeted," Paudert said.
He said Pierce's wife told him that her husband was able to respond to her voice but remained heavily sedated following surgery.
"When she asks him to move a limb, he will move it. He can hear and he is responsive, but he is not talking," Paudert said at a news conference Thursday evening.
"I don't think he's anywhere near the point of being interviewed [by police]," Paudert said, adding that Pierce lost sight in his left eye and his right eye was covered by bandages.
Stuart Lowery, assistant special agent in charge for the New Orleans, Louisiana, office of the federal Bureau of Alcohol, Tobacco, Firearms and Explosives, would not discuss components of the explosive or how it was detonated but said evidence was sent to the nearest ATF lab, in Atlanta, Georgia.

Watch investigators converge on the SUV »
"Some people are referring to this as an improvised explosive device," said Lowery, who appeared at the news conference with Paudert. "We could refer to it as a homemade bomb. Let's be clear -- by any name, the purpose is to kill people."
Lowery said local, state and federal investigators had checked more than 50 leads -- some coming from police tip lines, some from other sources he would not reveal -- and "we are receiving more leads as we speak."

Watch ATF say the bombing is a criminal act »
Agents from the FBI and the ATF were sent to the medical board's office in Little Rock -- Arkansas' capital city about 125 miles west of West Memphis -- on Thursday to begin reviewing disciplinary cases handled by the board.
The doctor, married with two grown children, has been described as a pillar of the community. Paudert said Pierce was his doctor, and he has known him for more than 10 years.
Hot line
The ATF is asking anyone with more information on this case to call its hot line at 888-ATF-BOMB.

"There's not a kinder -- he cares about everybody," Paudert said. "He's a mentor to many in the community." He said Pierce treats patients who can't afford to pay, "and he doesn't just do it as a doctor. He talks to you. He'll call and check up on you to see how you're doing ... one of these old-timey country doctors, and he cares about his patients. He is the last one in this city I would have expected, ever, for this to happen [to]."

But he said authorities are investigating whether someone angered by a medical board decision may have targeted Pierce. The board, like those in every state, oversees licensing of medical professionals -- and, in some cases, disciplines those professionals, suspending or revoking their licenses.

Dr. Scott Ferguson, a family friend and neighbor who is serving as the Pierce family spokesman, told reporters Wednesday night he did not feel the bombing was random. "I think it was intentionally directed at him," he said, adding that Pierce's medical board involvement could be the cause.

Watch a family friend say Pierce was targeted »
Ferguson said when Pierce left the house to crank the vehicle Wednesday, he saw a spare tire in front of the SUV and went to move it so he could get out of the driveway. As he did so, a bomb under the vehicle exploded, Ferguson said. He did not know what role the tire might have played. It was unclear whether the car was running at the time of the blast.
At their news conference, neither Paudert nor Lowery would confirm the spare-tire report.

Pierce's house and the medical center were under police guard and Paudert urged residents to notify authorities if they suspected their vehicles had been tampered with. But Paudert and Lowery emphasized that they were not seeking to alarm citizens of Memphis and West Memphis -- cities separated by the Mississippi River -- even though no arrests had been made.
"Any time [a bombing incident] occurs, obviously it causes concern," Lowery said. "But we see this at this moment as a single incident."
E-mail to a friend

All About Bureau of Alcohol, Tobacco, Firearms and Explosives