SAN FRANCISCO, California (CNN) -- Baseball home-run king Barry Bonds repeated his longstanding not-guilty plea to federal charges of perjury and obstruction of justice Thursday ahead of a hearing on his upcoming trial.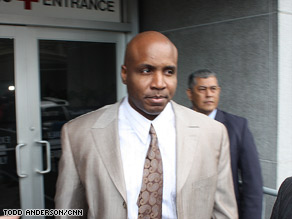 Barry Bonds said again that he was not guilty of perjury or obstruction of justice during a hearing on Thursday.
Originally charged in 2007, the former San Francisco Giants slugger was in court Thursday morning to answer a revised indictment federal prosecutors obtained in December. Bonds appeared in court in a light brown suit, accompanied by his lawyers and with an aunt among courtroom spectators.
Bonds, 44, faces trial in March on charges he lied to a federal grand jury investigating the use of steroids in professional sports. Wednesday, U.S. District Judge Susan Illston released a 223-page stack of documents that outline the government's case against him, including steroid test results and notes from his former personal trainer that prosecutors say undercut Bonds' testimony that he never knowingly took performance-enhancing drugs.
Bonds' attorneys are seeking to keep much of that evidence out of court, arguing during Thursday's hearing that the government could not vouch for the integrity of the samples. Illston issued no ruling Thursday, but said she was leaning toward excluding test records from the Bay Area Laboratory Cooperative -- the company at the center of the steroid scandal -- without direct testimony tying them to Bonds.

Watch new evidence unsealed in court »
Bonds lawyer Allen Ruby said whatever the government is allowed to present to a jury, "We'll deal with it."
"Our defense is that Barry Bonds is innocent," he said "That's our defense, and we think that's the central fact of the case."
Don't Miss
Bonds holds Major League Baseball's single-season and all-time home-run titles, but his achievements have been shadowed by allegations he used steroids. In his 2003 testimony, he told the grand jury his former personal trainer, Greg Anderson, gave him a cream he said was flaxseed oil to use on his arm.

Anderson spent three months in prison after admitting distributing steroids and was later jailed for refusing to cooperate with prosecutors. Prosecutors say their case will include a recording of a phone conversation between Anderson and an associate, in which Anderson describes injecting Bonds with performance-enhancing drugs and boasting of the "undetectable nature" of the substances.
Bonds won seven National League MVP titles during his 22-year career, 15 years of which was spent with the Giants. The team released him after the 2007 season, just weeks after he broke Hank Aaron's career home-run record.
E-mail to a friend

CNN's Jeff King contributed to this report.
All About Barry Bonds • Major League Baseball • Criminal Investigations