(CNN) -- Texas child protection officials are dropping a custody case involving the 17-year-old daughter of jailed polygamist sect leader Warren Jeffs, a spokesman said Tuesday.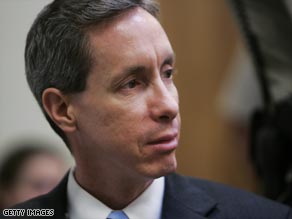 Warren Jeffs is the jailed 'prophet' of a fundamentalist sect known as the FLDS.
Child protection officials are asking the court to end court oversight of the teenager, the spokesman added.
The girl will not turn 18 until July, said Patrick Crimmins, spokesman for the Texas Child Protective Services. She is in the custody of her mother, not the state.
"We feel like (the girl's mother is) going to be protective," Crimmins said. "There's only so much we can do" if a child is not in state custody, he added.
The girl is the daughter of Jeffs, leader and so-called "prophet" of the Fundamentalist Church of Jesus Christ of Latter-day Saints (FLDS).
She was among more than 400 children seized by state child welfare workers from the FLDS' Yearning for Zion (YFZ) Ranch in April, then returned after the Texas Supreme Court ruled the state had no right to remove them and lacked evidence to show they were in imminent danger of abuse.
District Judge Barbara Walther approved the state's request to end court oversight of the girl, according to a report in The Deseret News newspaper of Salt Lake City, Utah.
The girl's court-appointed attorney, Natalie Malonis, however, told the newspaper the case is not over. She filed a counter-petition last month seeking to have her mother and child protection officials appointed as her joint managing conservators and restricting her to the state of Texas.
Malonis previously attempted to depose Merrill Jessop, an FLDS elder who oversees the YFZ Ranch, and Willie Jessop, a sect member who has served as its spokesman. But both men invoked their Fifth Amendment right in depositions, according to The Deseret News.
A judge has yet to rule on whether the men can be forced to answer Malonis' questions. Malonis previously requested a restraining order against Willie Jessop, saying he had harassed and intimidated both of them and might be attempting to prevent the girl's testimony before a grand jury.
Attempts to contact Malonis by CNN Tuesday were unsuccessful.
Court documents allege the girl was 15 when Jeffs allowed her to marry one of Merrill Jessop's sons, who was 34 at the time, according to the Standard-Times of San Angelo, Texas.
Jessop and his son, Raymond -- the girl's alleged husband -- are under indictment, charged with one count of sexually assaulting a girl under 17. They were among five FLDS members indicted by a Texas grand jury along with Jeffs, who is already facing a sentence of up to life in Utah and is awaiting trial in Arizona.
The FLDS openly practices polygamy on the YFZ Ranch, as well as in the twin border towns of Hildale, Utah, and Colorado City, Arizona. Critics of the sect say young girls are forced into "spiritual" marriages with older men and sexually abused. Sect members have denied any sexual abuse takes place.
The state asked to drop court oversight of four other children besides the girl, The Deseret News reported.
E-mail to a friend

All About Warren Jeffs • Fundamentalist Church of Jesus Christ of Latter Day Saints