(CNN) -- Four more fires were deliberately set early Saturday in an area of eastern Pennsylvania plagued by arsons, authorities said.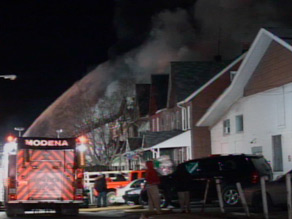 Last weekend, a huge fire spread through more than a dozen homes outside Philadelphia, authorities said.
The residential fires occurred from 12:35 to 7 a.m. Saturday in Chester County, Pennsylvania, according to the Bureau of Alcohol, Tobacco, Firearms and Explosives.
A county task force declared that the blazes, which began on the front and side porches of homes, were arson, officials said in a statement.
The area, near Coatesville, Pennsylvania -- about 40 miles west of Philadelphia -- has been beset by a string of arsons in recent weeks.
Authorities said that at least 30 fires were deliberately set in Coatesville in 2008 and 2009.
Of those, more than half have occurred in the past four weeks. One of the first swept through 15 homes last weekend.
"These fires share a commonality with the fires already under investigation, but at this point we will not say that they are directly linked to the arsonist or arsonists in Coatesville," ATF spokesman John Hageman said Saturday.
The ATF is reviewing fires in neighboring communities to see whether there were any occurrences of arson before the federal agency became involved in the investigation, he said.
All four of the fires early Saturday were caught early, and fire departments were on the scene quickly. None of the homes was completely lost, Hageman said.

Coatesville City Manager Harry Walker has said authorities think that the people behind the 2008 fires have been in custody since December and that the blazes this month are the act of a "copycat" group.
Walker likened the arsonists on the loose to "terrorists."
E-mail to a friend

All About Arson • Pennsylvania