ORLANDO, Florida (CNN) -- The Florida woman charged with murdering her young daughter sat quietly in a courtroom Friday, ankles shackled, for a hearing on defense motions, including a request for access to the place where her child's remains were found.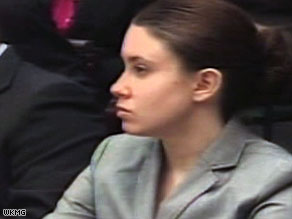 Casey Anthony appeared in Orange County Circuit Court Friday.
Casey Anthony, who was not handcuffed, rubbed her hands together at the start of the proceeding in Orlando before Orange County Circuit Judge Stan Strickland.
She looked attentive, dressed in a light gray suit, her hair pulled back in a bun.
On Thursday, Strickland denied a request that would have allowed Anthony to skip such hearings.
No trial date has been set. Assistant State Attorney Linda Drane Burdick told the court Friday that prosecutors are unlikely to be ready for trial until later this year, at the earliest.
The skeletal remains of Caylee, who was 2 when she was last seen in June, were discovered in December in a wooded area about a half mile from her grandparents' home, where the child and her mother had been living.
Strickland granted a defense request Friday to inspect that area, even though the defense had not been able to contact the property owner.
Don't Miss
The judge said he would rule later in the day on a defense request for access to records, photos and reports from the Dickinson, Texas-based search-and-rescue team Equusearch, whose teams participated in the hunt for Caylee.
Attorney Mark NeJame, representing Equusearch, called the request a "fishing expedition."
The defense said it wants to sort out what it called inconsistent information from searchers, which included more than 4,000 volunteers. NeJame argued there is no evidence of that, claimed Strickland has no jurisdiction because the group is out of state and raised other legal issues.
Defense lawyer Jose Baez responded that Equusearch, a nonprofit group, had operated as an agent of the state, working side-by-side with law enforcement.
On another motion, the judge denied a defense request that Strickland ask the state attorney to recuse himself from the case. The judge said he wasn't convinced that Anthony's right to counsel had been affected by a complaint against Baez allegedly filed with the Florida Bar by the state attorney's office.
Baez was cleared of any wrongdoing, according to the Orlando Sentinel.
Anthony, 22, was arrested in October and charged with first-degree murder, even though the body had not been found at that time.
Brad Conway, the attorney for the Anthony family, said his clients asked that the pretrial proceedings be "expeditious," but "accurate." That statement elicited a quiet chuckle from Anthony.
E-mail to a friend

CNN's Natisha Lance contributed to this report.
All About Casey Anthony • Murder and Homicide