By Kevin Bohn
CNN Senior Producer





WASHINGTON (CNN) -- In what the federal government calls a "sinister and continuing scheme," convicted spy Harold Nicholson, a former CIA employee, and his son have been indicted on charges stemming from an alleged new operation in which they gave information to Russia, the Justice Department announced Thursday.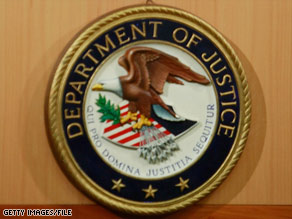 The Justice Department says a convicted spy and his son passed information to Russia in exchange for payment.
Prosecutors allege Nathaniel Nicholson met with his father, who was imprisoned in Oregon, several times to obtain information. Between 2006 and 2008, they say, the son then traveled to San Francisco, California; Mexico; Peru; and Cyprus to meet with representatives of the Russian Federation. He passed along the information and, in return, collected money that represented payment for the elder Nicholson's past espionage work, prosecutors say.
The younger Nicholson, the Justice Department says, brought the money back to Oregon and distributed it to family members.
In addition, according to the indictment, the younger Nicholson was in possession of a small notebook "containing clandestine communication instructions on how to communicate in code via an Internet e-mail account." He allegedly sent coded e-mail messages to a Russian representative.
Nicholson was sentenced to more than 23 years in prison in 1997 after pleading guilty to selling defense secrets to Russia. Then-CIA Director George Tenet said Nicholson blew the cover of CIA employees, including some in very sensitive positions. At the time of his 1996 arrest, authorities said, he had possession of 74 classified documents and a computer disk with classified information.
"Today's indictment alleges that an imprisoned spy recruited and trained his 24-year-old son to travel the globe to collect on past spying debts and channel information to foreign agents," Matthew Olsen, acting assistant attorney general, said in a news release. "These charges underscore the continuing threat posed by foreign intelligence services and should send a clear message to others who would consider selling out their country for money."
Both Nicholsons are charged with acting as agents of a foreign government, money laundering and conspiracy.
"The conduct alleged in the indictment shows a sinister and continuing scheme by a former CIA senior officer-turned-spy to betray the United States of America for financial gain," said U.S. Attorney Karin Immergut.
Harold Nicholson was allowed to serve his prison sentence near his family and "without regret, he used that proximity to his family to continue contact with the foreign country for which he was previously convicted of spying," FBI Special Agent David Miller said in the Justice Department news release.
The Nicholsons were scheduled to appear at a federal court hearing Thursday afternoon. A lawyer representing them was not immediately available for comment.
E-mail to a friend

All About Russia • Central Intelligence Agency • U.S. Department of Justice • Espionage and Intelligence