By Emanuella Grinberg
CNN





(CNN) -- A family of four has been found dead in a suburban Columbus, Ohio, home in what's believed to be a murder-suicide, authorities said Thursday.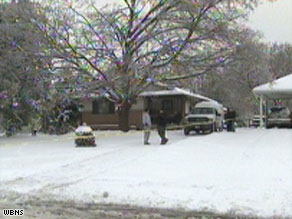 Police tape surrounds a Whitehall, Ohio, house, where a family of four was found dead Wednesday.
Police in Whitehall, east of Columbus, responded to a call around 2 p.m. Wednesday and found the bodies of Mark Meeks, 51; his wife, Jennifer Dallas-Meeks, 40; and children Jimmy, 5, and Abbigail, 8.
"We're confirming all four victims had gunshot wounds, and a gun was found at the scene," Sgt. Dan Kelso said.
A suicide note purportedly written by Meeks also was found at the scene, but police are not releasing the note's contents, Kelso said.
Authorities believe Meeks shot his wife and two children and then himself, Kelso said.
It was the second time this week that a family died in an apparent murder-suicide. On Tuesday, the bodies of Ervin Antonio Lupoe, his wife and five children were found in their Los Angeles, California, area home after Lupoe faxed a letter to a local television station explaining that he and his wife had lost their jobs and felt it was better to end their lives.
Police resisted the suggestion that the killings were motivated by finances or job loss.
"Out of respect for the family, detectives are not releasing the actual motive, but it's not financial, and he was employed," Kelso said.
The vice president of operations at Immke Northwest Honda, where Meeks was a service manager, confirmed that he was a current employee.
"We as a dealership decline to comment on this devastating tragedy, except to say that all of us here at Immke Northwest Honda are very sad and our condolences go out to the family," Tom Spicer said.
Meeks' brother said the family was struggling to come to terms with the possibility that his older brother -- a lifelong car buff and devoted family man who adored his wife and children -- could be responsible for their deaths.
"They were just great people, and they seemed to be an extremely close family," Mike Meeks said. "I like to say they were so close they were mushy; they showed affection toward each other and their kids."
Meeks said that he last saw his brother about three weeks ago when he came by to pick up firewood and that he seemed happy, giving no clue that anything was amiss.
"There was no indication of anything like this coming. Nothing," the brother said. "I think that's why everyone's feeling a sense of shock."
E-mail to a friend

All About Murder and Homicide • Suicide • Columbus (Ohio)