COATESVILLE, Pennsylvania (CNN) -- Residents looking for an end to a string of arson fires went to Coatesville City Hall on Monday demanding action.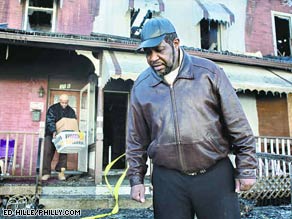 A resident surveys the damage to his home after a devastating fire Saturday night.
"There's blood on this City Council's hands," said one man, referring to the death of an 83-year-old woman in an arson last year.
There were at least 15 arsons in 2008, and 14 more this month -- including a massive blaze over the weekend that burned 15 homes.
The fire caused nearly $2 million in damage and left 11 families without homes, said authorities in the small city west of Philadelphia, Pennsylvania.
Monday's meeting at City Hall was supposed to be only a sign-up for neighborhood watch, but many among the dozens who showed up hoped for a chance to voice their frustrations.

Watch how closely the arsons were situated »
Some residents say they're afraid to sleep in their own homes.
Steve Miller, who has two children, said his 8-year-old is frightened, and the town is "on edge" because the fires are not concentrated in a particular area.
"Everyone's just kind of alert and on edge right now," he said.
Fellow Coatesville resident Vanessa Brickus said she's scared to leave her house, even to go to work. When she is home, she said, she stays up all night out of fear.
"I'm on my back porch. I'm on my front porch. I'm on the side of my house. This is at night. From 11 o'clock at night to almost 5 or 6 o'clock in the morning, I'm peeping out the windows," said the lifelong Coatesville resident. "I don't go to sleep since this stuff started."
A meeting Sunday became standing-room-only as residents packed in. "Chaos erupted" when residents were there before any officials arrived, and some angry people were escorted out, CNN affiliate WPVI-TV reported.
City Manager Harry Walker tried to defuse the situation by asking the residents to sign up for the neighborhood watch program. He said he needed residents working together with authorities "to catch these terrorists and end this tragedy in our city."
"But it's not going to be accomplished through ad hoc assaults on City Hall while we have our regular business to do, which includes, No. 1, getting rid of these arsons," he said.
Authorities in Coatesville vowed to do what it takes to stop the arsons.
"We have placed nothing off the table in terms of how to deal with this matter and how to move forward," Police Chief William Matthews said Sunday.
He added that the city's 11,000 residents can provide "22,000 more eyes" to keep a lookout. "It's vitally important that everyone participate," he said.
In December, Coatesville police arrested three people -- two adults and a juvenile -- accused of carrying out arsons in 2008.
They admitted to setting some fires, authorities said, but while the three were in custody, the fires started coming at a faster rate than ever this month.
The latest fires may be copycat crimes inspired by the fires in 2008, Walker said. He also said the fires this month appear to be connected, while the three in custody for last year's fires appear to have worked separately.
"The [modus operandi] clearly indicates a group of individuals -- but probably with the same aim. So there may be some sense of organization," he said.
Asked if the fires could be gang-related, he responded, "It could be, yes."
The city had "a spate" of gang activity in the summer of 2007, "and we haven't had any further outbreaks," he said. Also, he added, authorities do not believe the gang activity included fires.

State and federal officials -- including Pennsylvania State Police and the federal Bureau of Alcohol, Tobacco, Firearms and Explosives -- have joined in the probe.
A $5,000 reward is being offered for information leading to whoever has been setting the latest fires.
E-mail to a friend

CNN's Sheila Steffen, Deborah Feyerick, and Miguel Susana contributed to this report.
All About Arson • Pennsylvania • Bureau of Alcohol, Tobacco, Firearms and Explosives