(CNN) -- The distraught grandfather of slain Florida toddler Caylee Anthony sent his family and friends text messages saying he "did not want to live anymore and that he wanted to be with Caylee," according to a police report.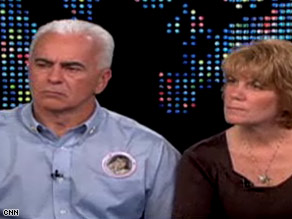 George Anthony has defended his daughter, Casey, who is accused in the death of his granddaughter, Caylee.
George Anthony, 57, then disappeared for several hours, and his family's worried attorney called police.
"You can see that George has been pushed to the brink of what could have been another tragedy in this case," said the attorney, Brad Conway. "This has been nothing less than hell" for the couple, he added.
He asked reporters to respect "the pain and the anguish" the Anthonys have gone through and "give them a little bit of space." He pointed out that they have not been able to bury Caylee, whose remains were found in December.
"He is not OK. George would not be with us without of efforts of law enforcement," Conway said.

Watch panel of experts discuss the case »
Anthony was found about 2:30 a.m. Friday at the Hawaiian Inn Hotel in Daytona Beach, Florida, and taken into custody, according to Orange County Sheriff's Department spokesman Jeff Williamson. Anthony was hospitalized on a 72-hour psychiatric hold.
A former police officer, Anthony has been embroiled in a crime saga involving his daughter, Casey Anthony, and granddaughter Caylee.
Casey Anthony, 22, is charged with killing her 2-year-old daughter, who was last seen alive in June. Casey Anthony was arrested in October and charged with first-degree murder and other offenses.
George Anthony's wife, Cindy, told police that she last saw her husband at 10:30 a.m. Thursday as he was leaving for a job interview. Conway reported George Anthony missing late Thursday, police said.

Watch police take George Anthony into custody »
"Cynthia stated George has been upset and depressed about the death of his granddaughter, Caylee Marie," according to an Orange County sheriff's report.
"She stated she asked George yesterday to pick out some jewelry for Caylee for her funeral," the report stated. "Cynthia said she believed this might have made him even more depressed."
Cindy Anthony told police she became concerned after learning that her husband failed to show up for several meetings he had scheduled, including one with a friend in Lakeland, Florida, according to the police report. She tried to call her husband, she said, but he did not call her back. He also did not respond to her text messages.
George Anthony's medication -- at least two weeks' worth -- was missing, the report said, along with a photo of his wife and daughter. Cindy Anthony said no clothes or other belongings were missing, the police report said.
Starting about 10:45 p.m., Cindy Anthony said, she and others received several text messages on their cell phones. "The text messages George sent stated he did not want to live anymore and that he wanted to be with Caylee," according to the police report. "George text(ed) he wanted to be left alone and he wanted to make sure Caylee was in God's arms."
He would not say where he was, the report said.
In his call to 911, Conway told police, "We're worried that something is -- he's done something to himself." A copy of the recording was released by police.
Police tracked the GPS on George Anthony's cell phone to the Daytona Beach area, according to the police report. Daytona Beach police and some Orange County investigators went to the area to search for his vehicle and found him at the hotel, authorities said.
The police chief persuaded Anthony to go to a hospital, said Jimmie Flynt, Daytona Beach police spokesman. He was taken to Halifax Medical Center.
Conway said Friday that when found, George Anthony had taken medication and may also have been drinking alcohol.
A five-page suicide letter was found in Anthony's car indicating that he wanted to harm himself, Flynt said.
Conway said Anthony was taken into custody under Florida's Baker Act, which allows the state to hold people involuntarily pending a psychiatric evaluation. Police said he can be held for 72 hours without a court order.
Conway asked the public and the media to give the Anthonys some space and respect. "This has been nothing less than hell" for them, he said. "The loss of their granddaughter has obviously been difficult."
He said the couple has not been able to bury Caylee because of ongoing tests by both sides in the case against her mother. The delays have been frustrating, he said, but "nobody wants to do this twice."
He said the Anthonys have been criticized for allegedly wanting to profit from holding a public memorial for Caylee, an allegation Conway said is "just garbage."
For months, George and Cindy Anthony publicly defended their daughter, saying that she had nothing to with their granddaughter's disappearance.
In December, George Anthony said on CNN's "Larry King Live" that he never suspected his daughter killed his granddaughter and he felt Caylee was still alive.

"Oh, Caylee? She's with, hopefully, a loving family that's taking care of her," he said.
The next day, Caylee's skeletal remains were found.
E-mail to a friend

All About George Anthony • Caylee Anthony • Casey Anthony