(CNN) -- A man who authorities say defrauded investors and then tried to fake his own death by deliberately crashing his plane in the Florida Panhandle pleaded not guilty Thursday to charges of intentionally destroying an aircraft and faking a distress call.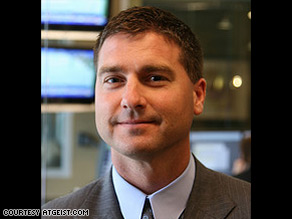 Marcus Schrenker's legal counsel says there is "reasonable cause" to believe the pilot may have a mental disorder.
Jerry Marbut, courtroom deputy for the U.S. District Court for the Northern District of Florida, said Marcus Schrenker, 38, had pleaded not guilty.
He said Schrenker's trial had been set for April 13.
In court papers filed with a Florida federal judge Wednesday, Schrenker's public defender, Thomas Keith, said he spoke with his client for the first time this week and there is a "bona fide" doubt regarding Schrenker's mental competency.
Keith did not say what he and Schrenker talked about when they met Tuesday, but that there was "reasonable cause" to believe Schrenker may be suffering from a mental disorder that renders him mentally incompetent to be tried.
Schrenker took off alone January 11 from Anderson, Indiana, in a Piper PA-46 en route to Destin, Florida. Over Alabama, he contacted air traffic controllers, saying the windshield of the plane had imploded and he was bleeding profusely.

Watch what the pilot did before takeoff »
Police suspect he then put the aircraft on autopilot and parachuted to the ground.
The Coast Guard dispatched rescue helicopters from New Orleans, Louisiana, and Mobile, Alabama, in seeking the aircraft, prosecutors said.
Two Coast Guard cutters were also ordered out in case the aircraft had crashed into the Gulf of Mexico, and two F-15 fighter jets were scrambled to intercept the aircraft.
The F-15s located the aircraft still aloft near Birmingham, Alabama, and reported that "the window was intact, the door was open, no lights were illuminated on the plane, there was no pilot on board and the plane appeared to be on autopilot," according to an affidavit the Coast Guard filed. "The F-15s followed the plane until it crashed."
The plane crashed near the Blackwater River in East Milton, Florida, missing a group of homes by 50 to 75 yards, said Sgt. Scott Haines of the Santa Rosa County, Florida, sheriff's department.
Schrenker, meanwhile, is believed to have fled Harpersville, Alabama, south of Birmingham, on a motorbike he had stashed in a storage shed there, using an assumed name, authorities have said.
Schrenker was charged in Indiana with one felony count each of an unlawful act by a compensated adviser and unlawful transaction by an investment adviser. Authorities believe Schrenker defrauded investors through three companies he owns that are based in an Indianapolis suburb.
Police said Schrenker had cuts on his wrists from an apparent suicide attempt when he was taken into custody at a campground north of Tallahassee, Florida, last week. He spent the weekend in a Tallahassee hospital.

He has since been transferred to Pensacola, Florida, where he is currently being housed in the Escambia County Jail.
Indiana officials have agreed to allow the federal case against Schrenker to proceed before seeking to have him extradited to Indiana, prosecutors have said.
E-mail to a friend

All About U.S. Coast Guard • Criminal Investigations