(CNN) -- A noose was found Wednesday on the desk of an African-American supervisor at the Louisiana Governor's Office of Homeland Security and Emergency Preparedness, according to the agency's director.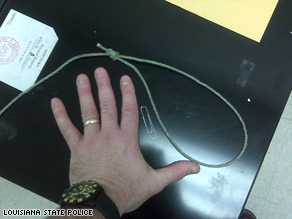 The noose was found on a supervisor's desk at the Baton Rouge, Louisiana, office.
The supervisor and a colleague found the rope "tied into a noose at the supervisor's desk" in Baton Rouge, Louisiana, said a statement from agency Director Mark Cooper.
"Let me make myself clear: This type of behavior is 100 percent unacceptable and will not be tolerated on my watch," Cooper said at a news conference recorded by CNN affiliate WBRZ.
State police responded to the office where the noose was found, Cooper said.
"Once it is discovered who is responsible for this act, we will pursue criminal charges against the person or persons responsible to bring justice for these two employees and send the strongest message possible that we will not tolerate any type of harm to our personnel," he said.
Both the supervisor and the other employee are African-American, said Veronica Mosgrove, a spokeswoman for the homeland security agency. The noose was about 8 inches long, she said.
Public display of a noose in Louisiana is a felony punishable by up to a year in prison and a fine of up to $5,000, state police Superintendent Mike Edmonson said at the news conference.
Cooper said he told both employees that "we will do what it takes to assist and support them and their families in any way possible to deal with this gross violation of an individual's right to work in a safe and positive environment."
E-mail to a friend

CNN's Sean Callebs contributed to this report.
All About Louisiana