GUANTANAMO BAY, Cuba (CNN) -- The judge overseeing pretrial hearings for a terrorism suspect accused of killing a U.S. soldier hinted Tuesday at the uncertain future for the case as Barack Obama assumes the presidency.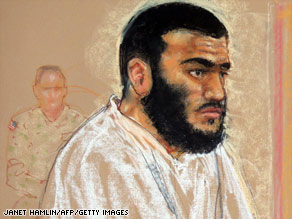 Canadian Omar Khadr, accused at 15 of killing a U.S. soldier in Afghanistan, sits in a Gitmo hearing.
"We will reconvene tomorrow, unless otherwise ordered by the commission," Judge Pat Parrish told those in the courtroom at Guantanamo Bay.
Obama has vowed to close the naval prison at the U.S. base. It is not clear how soon that will happen or how it will affect these detainees.
An executive order to close the facility could have an immediate effect on ongoing cases. Sources have said Obama is expected to issue an executive order in the first days of his presidency, though Obama has acknowledged that it would take time to implement any such order.
Parrish was recessing the hearing for Omar Khadr, 22, who was captured at the age of 15 in 2002.
Khadr's attorney has said he does not believe that the Obama administration will proceed with the case against Khadr once all the evidence is presented.
"Here you have a 15-year-old boy who was victimized and sent into combat by his parents," attorney William Kuebler said, adding that the U.S. government "subjected him to interrogation methods and techniques that would be illegal as applied to adults."
The military denies that Khadr's statements were derived under torture.
Hearings have also taken place this week for five detainees accused of crimes related to the September 11 terrorist attacks. The judge overseeing those cases have also indicated that the near future of those cases remains uncertain.
E-mail to a friend

CNN's Susan Candiotti, Laurie Ure and Kevin Bohn contributed to this report.
All About Guantanamo Bay • Omar Khadr