(CNN) -- A man who was sought by police in Texas after four children were burned with sulfuric acid has turned himself in, authorities said Monday.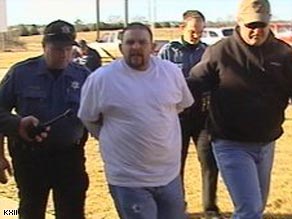 Tracy Lynn Escobedo is taken into custody for allegedly burning four children with sulfuric acid.
Tracy Lynn Escobedo, 27, called CNN affiliate KXII-TV and asked that a crew videotape him as he turned himself in Sunday.
"I would never throw acid at nobody. It was an accident," Escobedo says repeatedly on the video as he surrenders to Cooke County sheriff's deputies. "I ran because I was scared. I hurt my kids. It was an accident. ... I would never hurt my kids. I love them."
Escobedo is charged with four counts of injury to a child, the sheriff's office said.
The children involved were ages 14, 7, 4, and 18 months, authorities said.
In the incident last week near Gainesville, Texas, a container of sulfuric acid ruptured in a pickup truck, police said.
Cynthia Stout -- a woman believed to be the mother -- and three of the children were left at a cafe by Escobedo, who took the baby with him, authorities said. Escobedo then gave the baby to another woman, believed to be a relative, at a residence, authorities said.
When police arrived at the cafe, Stout attempted to flee and resist arrest, but was taken into custody, authorities said. She was being held on suspicion of child endangerment.
It was unclear why sulfuric acid was in the truck.
Cooke County Sheriff Michael Compton said all four children are being treated at Parkland Hospital in Dallas, Texas. Speaking to CNN early Monday, Compton said the condition of the 7-year-old "is not very good, I don't think. The others are stable."
The state has temporary custody of the children, Compton said.
E-mail to a friend

All About Crime