GUANTANAMO BAY, Cuba (CNN) -- Hearings were under way Monday for five detainees accused of crimes related to the September 11, 2001, terrorist attacks and a Canadian charged with killing a U.S. soldier.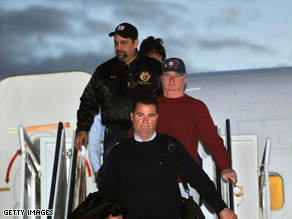 Relatives of 9/11 victims arrive at Guantanamo Bay on Saturday for hearings that began Monday.
Lawyers, relatives of those killed on 9/11, human rights activists and members of the media poured into the U.S. base at Guantanamo Bay, Cuba, to observe the proceedings.
Judge Stephen Henley, the Army colonel presiding over the hearings, denied a late attempt Friday night by the chief prosecutor and defense attorney to delay the hearings.
Among the issues before the court is whether Ramzi bin al-Shibh, a Yemeni accused of financing the hijackers who carried out the 9/11 attacks, is mentally competent to stand trial.
"We are proud of what we did," bin al-Shibh pronounced during Monday morning's proceedings.
The judge admonished him to stop interrupting.
Khalid Sheikh Mohammed, accused of plotting the details of the coordinated 9/11 attacks, was also among the five accused terrorists in court Monday, as was Walid bin Attash, accused of operating a training camp in Afghanistan attended by two of the hijackers.

Watch why transferring detainees may slow close of Gitmo »
The other two -- Ammar al-Baluchi, also known as Ali Abdul Aziz Ali, and Mustafa Ahmad al-Hawsawi, a Saudi -- are accused of financing the hijackers.
The Canadian, Omar Khadr, is charged with the murder of Sgt. Christopher Speer and with providing material support for terrorism. Khadr was 15 years old when he was captured in July 2002.

"Here you have a 15-year-old boy who was victimized and sent into combat by his parents," said Khadr's attorney, William Kuebler. The U.S. government "subjected him to interrogation methods and techniques that would be illegal as applied to adults," the attorney said.
The military denies that Khadr's statements were obtained under torture.
E-mail to a friend

CNN's Laurie Ure contributed to this report.
All About Afghanistan • September 11 Attacks • Guantanamo Bay