(CNN) -- The next move of a pilot taken into custody at a Florida campground depends on word from doctors, authorities said Thursday.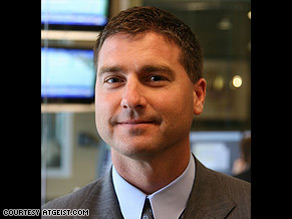 Marcus Schrenker was taken to a hospital after being found Tuesday near Quincy, Florida, authorities say.
Financial manager Marcus Schrenker, who officials say tried to fake his death by parachuting from a plane over Alabama, was found Tuesday at a campsite near Quincy, Florida.
He was hospitalized at Tallahassee Memorial HealthCare in Florida with deep cuts on his wrists. Authorities said he was incoherent and bleeding so profusely when he was found that he likely would not have survived another hour without medical help.
U.S. Marshall Scott Wilson said Schrenker will be transferred to Pensacola, Florida.
Federal charges were filed against Schrenker on Wednesday in U.S. District Court in Pensacola. Prosecutors alleged that he intentionally communicated a false distress message and caused the Coast Guard "to attempt to save lives and property when no help was needed."
Don't Miss
Schrenker, 38, is also charged with willfully damaging, destroying or wrecking an aircraft.

Watch what the charges entail »
"We're waiting the morning round of tests and doctors" to see when Schrenker will be released from the hospital, Wilson said. The timing will determine whether Schrenker will be transferred directly to Pensacola or will stay elsewhere overnight.

Indiana prosecutors charged Schrenker on Tuesday with one felony count each of an unlawful act by a compensated adviser and unlawful transaction by an investment adviser. Authorities believe Schrenker defrauded investors through three companies he owns that are based in an Indianapolis, Indiana, suburb.
Indiana officials have agreed to allow the federal case against Schrenker to proceed before seeking to have him extradited to Indiana, according to a statement from the U.S. Attorney's Office in the Northern District of Florida.
E-mail to a friend

All About Marcus Schrenker • Florida