From Sean Callebs and Jason Morris
CNN





NEW ORLEANS, Louisiana (CNN) -- As fireworks exploded over the Big Easy on New Year's Eve, 22-year-old Adolph Grimes III pulled up to his grandmother's home near the French Quarter after a five-hour drive from Houston, Texas.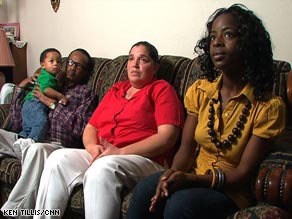 Adolph Grimes Jr., with grandson Chris, wife Patricia and his son's fiancee, Shae Whitfield, want answers.
Grimes, who relocated to Texas with his fiancée, Shae Whitfield, after Hurricane Katrina, couldn't wait to get home with their 17-month-old son, Chris, and ring in the new year with friends and family.
"He made it at 12 o'clock exact, with a second to spare," said his father, Adolph Grimes Jr.
Three hours later, Grimes lay dying on the sidewalk half a block from his grandmother's front door, with fireworks giving way to the hue of flashing police lights.
The Orleans Parish coroner said Grimes was shot 14 times, including 12 times in the back.

Watch police investigate scene of shooting »
Grimes had just walked out of the house and was in a car waiting for his cousin, according to family members, when nine plainclothes officers -- part of an undercover narcotics task force driving around New Orleans on New Year's Eve -- surrounded Grimes' vehicle.
Shots rang out; New Orleans Police Superintendent Warren Riley said Grimes shot at police first.
The Grimes family disagrees, saying police executed a loved one as he ran for his life.
"It was like someone was a murderer, and they finally caught him," said Grimes' mother, Patricia. "I ain't ever seen anything like this. And the worst part about it was I had to wait for the 5 o'clock news to find out my son was murdered."
Shortly after finding out about the death, the family contacted the FBI to investigate alleged wrongdoing by police officers in the shooting.
"We are hoping for a thorough investigation by the NOPD [New Orleans Police Department] and the district attorney's office," said the family's attorney, Robert Jenkins. " We know the FBI is going to do a fully complete investigation. We are hoping that criminal charges will be brought against all of these officers for the execution in this case."
Riley agreed that all the facts need to be released.
"We think that families should do everything they can do make sure this investigation is as thorough and complete as possible so they know the truth," he said.
Nine police officers were reassigned afterward, but New Orleans police aren't commenting on the case. The police also declined to release the names of the officers and the shooting report, saying the investigation is ongoing, both internally and with the FBI.
Family members said they want to know why officers descended on a young man with no criminal record, who graduated from one of the most prestigious high schools in the city.
"This violence has to stop. My child's death will not be meaningless. He did not die in vain," Patricia Grimes said. "This is meaningless; this never should have happened."
Grimes did have a gun. His family and the lawyer, Jenkins, said he had a legal permit to carry the weapon. Authorities also said they found a shotgun and extra ammunition in the car's trunk.
Grimes' relatives said they don't believe he opened fire first. And the family's attorney said he believes the investigation will show rogue cops and sloppy police work.
"I just think it was some bad officers who were out there and imposing their will on the community," Jenkins said.
Jenkins also said that 48 bullet casings were found at the shooting scene. Police won't confirm or deny that number, but Riley defended his officers' actions.
''We train our officers to fire when fired upon. We train them to fire more than one shot,'' he said.
But the shooting doesn't make sense, relatives said, describing Grimes as a young man who was a loving father with a good job and no history of being in trouble.

His grieving mother and father said they won't be silenced and are not worried about a code of silence among officers, the so-called "blue wall."
"The walls are going to come down. Just like the walls of Jericho came down," Grimes' father said, trying to fight back tears.
E-mail to a friend

All About New Orleans Police Department • Federal Bureau of Investigation