(CNN) -- The man accused in the brutal killing of Arkansas television anchor Anne Pressly will appear next Thursday in Pulaski County Circuit Court, where he will enter a plea in the high-profile case.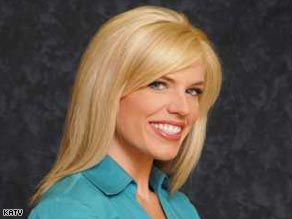 Anne Pressly, 26, was a news anchor at KATV in Little Rock, Arkansas.
Curtis Lavell Vance, 28, was formally charged Thursday with capital murder, rape, residential burglary and theft, Prosecutor Larry Jegley said Friday.
Neither he nor police would discuss details of the case because of a gag order imposed by the judge.
Jegley hasn't said whether he will seek the death penalty.
Jegley said Vance, who denies he was in Little Rock, Arkansas, when Pressly was killed, was being held at the Pulaski County Regional Detention Facility.
Vance was linked to the killing through DNA testing.
Lt. Terry Hastings, spokesman for Little Rock police, told CNN in December that investigators are "110 percent" certain Vance killed Pressly, 26, who was the morning news anchor for KATV, a CNN affiliate.
Pressly was found unconscious in her home October 20 and died five days later at a hospital.
"She fought for her life. She fought her attacker. Her left hand was broken from trying to fight this man off," Pressly's mother, Patti Cannady, told NBC.
"Six weeks ago this morning, I found my daughter beyond recognition with every bone in her face broken, her nose broken, her jaw pulverized so badly that the bone had come out of it; I actually thought that her throat had possibly been cut. Her entire skull had numerous fractures from which she suffered a massive stroke."
Hastings told CNN that DNA evidence also ties Vance to a rape in April in Marianna, Arkansas, about 90 miles east of Little Rock.
The affidavit related to the Pressly case, from Little Rock detective Tommy Hudson, said police made contact with Vance at his home in Marianna.
Hastings said investigators have found no link between Pressly and Vance, and they do not believe Pressly's being on TV had anything to do with the killing.
"I think he saw her someplace, probably followed her home with intention of robbing her. And then went from there."
The killer also took Pressly's purse, Hastings said.
E-mail to a friend

All About Anne Pressly • Murder and Homicide