NEW YORK (CNN) -- Gail Parker was many things to many people. She was an environmentalist who wrote about Love Canal and gave speeches about America's polluted waterways. She volunteered at the local hospital, helped the elderly and cancer patients. And she read to the blind.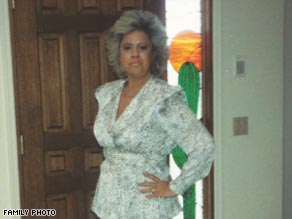 Gail Parker was 51 when someone killed her for her purse and jewelry and left her body in the desert.
Her good deeds were followed by a harsh end. Parker, who would have turned 67 Sunday, was killed -- most probably for her purse and jewelry -- and her body was left in the Arizona desert.
The body was found the morning of March 6, 1993, on the arid outskirts of Tucson, Arizona. Parker, 51, died from a blow to the back of the head and hypothermia, presumably after the desert's daytime heat quickly turned into a nighttime chill.
More than 15 years later, no weapon has been found and no suspects have been arrested. Today, Parker's slaying remains a cold case.

Watch her daughter appeal for information »
Police say the motive was robbery. Some of Parker's jewelry was missing, and her purse was found in Utah, just north of the Arizona border, about a month after her death. DNA under her fingernails indicates Parker might have put up a fight, but the evidence has not been run through the national database, according to Parker's daughter, Danielle.
The case is in suspended status, a police spokesman in Tucson said. Homicide cases are never closed, he added, but there are no suspects or new leads.
Still, the spokesman added, police are sending DNA evidence from this case and 26 others to a private lab for testing under a grant from the Justice Department.
The day before the gruesome discovery, Parker went to the hospital for a psychiatric evaluation. Danielle Parker says her mother suffered from bipolar disorder and had stopped taking her medicine. Still, Parker managed to convince the hospital staff that she was ready to go home.
The hospital released Parker and put her in a taxi without informing any family members, her daughter says. What happened next is not known, and perhaps never will be.
"Her being murdered has completely cast a shadow over my entire life," her daughter said. She described how a cold case affects people left behind.
"It's like no matter what I'm doing, no matter how far I go personally or professionally, it doesn't really matter that much anymore to me. You know, it sits heavy on me all the time," she said.
Don't Miss
In the years that followed, new tragedies have taken a toll on the family. Gail Parker's mother died from an accidental overdose of the medication she was taking to ease her anguish. And in February, Gail Parker's sister committed suicide.
Danielle Parker, meanwhile, has spent countless days trying to get the word out and keep the case open so it might one day be solved. "She really was a beautiful person,'' she said of her mother.
"It's taken a huge chunk out of all of our lives. We were a happy family. We really were.''
Gail Parker's husband, now 77, still mourns her. He refuses to go out on dates, Danielle Parker says. He has moved from Arizona to New Jersey to be closer to his daughter.
Parker's case was featured on "Nancy Grace" in March, on the 15th anniversary of her slaying. Letters of support and donations flowed in, Danielle Parker said. As a result, she has raised the reward to $50,000 for anyone who can provide information that helps break the case.

"I will never stop looking for the person who took her life," Danielle Parker said. "She was a beautiful person, inside and out, and I will fight for justice to be served until the day I die. I know she would have done the same for me."
Anyone with information is urged to call the Tucson Police Department at 520-791-4487 or Pima County at 520-88-CRIME.
E-mail to a friend

All About Murder and Homicide • Nancy Grace