(CNN) -- Statements made to Arizona police by an 8-year-old boy suspected of fatally shooting a man will not be used against him in court -- unless the statements are needed to refute any testimony he gives -- prosecutors agreed Tuesday.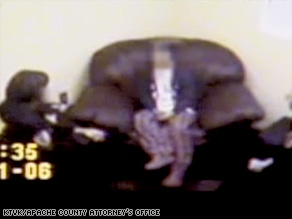 Authorities released video of the boy's interview with police in November.
The boy's defense attorneys had sought to suppress the statements to police and child welfare workers, saying he was not read his rights beforehand and no attorney or parent was present.
The boy initially was charged with two counts of murder in the deaths of his father, Vincent Romero, 29, and Tim Romans, who rented a room in Romero's home in St. Johns, Arizona. Both men were found dead inside the home November 5, and police said the next day that the boy confessed to shooting both men with a .22-caliber weapon.
But prosecutors in November filed a motion to dismiss the murder charge against the boy in his father's death, giving little explanation. A judge has not yet approved that motion.
Authorities in November released a videotape of the boy's police interview, in which he initially denied involvement in the shootings but later said he shot his already-wounded father "because he was suffering."

Watch the boy speak to investigators »
In court documents filed Tuesday, Apache County, Arizona, prosecutors said they were not acknowledging that the boy's statements to police were obtained illegally, alleging that a defense motion to suppress the statements "contains numerous errors in both its purported factual representations and interpretation of certain legal arguments."
They said the boy was not interviewed by a child protection worker in the detention facility, as defense attorneys claim, but that the juvenile made statements to her without prompting.
"The state is unaware of any incriminating statements made by the juvenile to the CPS caseworker," the court document said.

The killings shook St. Johns, a town of about 4,000 residents near the New Mexico border northwest of Phoenix.
The boy's mother, Eryn Bloomfield, said in a November interview on ABC's "Good Morning America" that her son is "a very good little boy" who has never been in trouble beyond what's normal for his age, and had "a very good relationship with his father." Bloomfield, who is identified in court papers as Eryn Thomas, lives in Mississippi.
E-mail to a friend

All About Murder and Homicide • Arizona