From Christina Chinnici
CNN
NEW YORK (CNN) -- A bus driver's helper is facing criminal charges after she allegedly overlooked a 22-year-old special needs student, who spent New Year's Eve alone in a freezing bus depot, police said.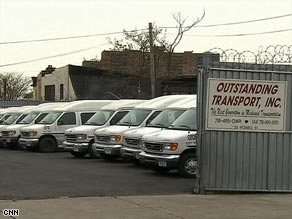 A cerebral palsy patient spent Wednesday night inside a frigid bus in a New York transportation depot.
Edwin Rivera, who has cerebral palsy, was left on a privately run school bus Wednesday night, authorities said.
Temperatures in New York plummeted to 15 degrees before he was found early Thursday. Rivera was taken to Brookdale University Hospital, where he was recovering Friday, according to hospital officials.
When he was found, Rivera was "cold, very cold," his sister, Leslie Rivera, told CNN affiliate News 12 Long Island. "His fingers were blue."
Linda Hockaday, 51, who helps the school bus driver, faces charges of first- and second-degree reckless endangerment. She was arraigned Friday.
Hockaday was aware Rivera was asleep on the bus, but did not inform the driver he was there, prosecutors allege in a criminal complaint. She didn't want to retrace the bus route and take Rivera home because she had to get to an appointment, the complaint said.
If convicted, Hockaday could face a sentence of up to seven years.
The bus driver has not been charged in the case.
The bus company, Outstanding Transport Inc., refused comment.
On its Web site, Outstanding Transport bills itself as "New York City's leader in meeting the transportation needs for the elderly and for handicapped adults.
"While some companies use old school buses, OTI maintains a high quality fleet of specialized vehicles suitable for their special-needs clients," the Web site says.
Rivera's parents reported him missing Wednesday after he failed to return home from his school, run by the Federation Employment and Guidance Service, which refused to comment.
Leslie Rivera told News 12 she would like to put the incident behind her and is now focused on her brother's condition.
"He is doing much better," she said. "He perked up. He started singing."
E-mail to a friend

All About Transportation • New York City