Greece downgraded to A2 credit rating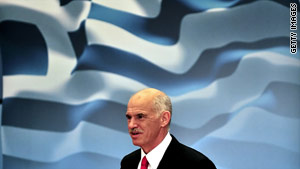 Socialist party leader George Papandreou won the 2009 elections with a promise to strengthen the Greek economy.
STORY HIGHLIGHTS
Moody's downgrades Greece's government bond rating
Rating downgraded Greece to A2 from A1
Move balances government's limited short-term liquidity risks and medium to long-term solvency risks
(FT) -- Currency markets were little-disturbed by a downgrade of Greece's government bond rating by Moody's on Tuesday, but sterling took a hit after revised UK growth data disappointed.
The euro remained higher on the day, but pared back its earlier gains, after Moody's, the ratings agency, downgraded Greece to A2 from A1 and kept its negative outlook.
The move balances the Greek government's very limited short-term liquidity risks on the one hand, and its medium- to long-term solvency risks on the other," said Sarah Carlson, Moody's lead sovereign analyst for Greece.
She noted also that longer-term risks had only been partly offset by the planned policy response announced by the government.
Moody's added, however, that the risk of liquidity and refinancing problems were remote as long as the European Central Bank continued to accept the country's sovereign debt as collateral for bank repurchase operations.
"We doubt that the ECB will simply pull the rug from under the Greek banks' feet," said Ben May at Capital Economics.
"Nonetheless, the downgrade further underlines the need for Greece to implement tough fiscal plans to prove that it is committed to returning public finances to a sustainable position," he added.
The euro, which had clawed back 0.3 per cent of Monday's losses to hit $1.4330 versus the dollar ahead of the downgrade, fell back to $1.4305, still up 0.1 per cent on the session.
Sterling fell 0.3 per cent to a two-month low of $1.6005 after a disappointing revision to third-quarter growth.
The initial forecast of a 0.3 per cent decline in third-quarter gross domestic product was revised upward to show the economy only shrank by 0.2 per cent.
This was a smaller-than-expected revision, however, and added to concerns over an economy grappling with ballooning deficits and rising unemployment.
On Monday, Standard & Poor's lowered its risk assessment on the UK's banking industry from "Group 2" to "Group 3", citing high leverage and weak earnings prospects.
Sterling fell 0.3 per cent against the euro to £0.8925 and was flat against a generally-weaker yen at Y146.26.
The yen was undermined by a deterioration in Japanese small business confidence. The currency shed 0.3 per cent versus the dollar to Y91.34.