Volkswagen to 'partner' Suzuki with $2.5B stake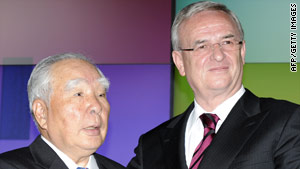 Volkswagen CEO Martin Winterkorn (right) with Suzuki counterpart Osamu Suzuk
STORY HIGHLIGHTS
Volkswagen -- Europe's largest car maker -- will get a 19.9 percent stake in Suzuki
In turn, Suzuki will use half that money to buy shares in the German automaker
The deal is expected to be completed next month, pending regulatory approval
(CNN) -- German auto giant Volkswagen is buying a a 20 percent stake in Japan's Suzuki Motor Corporation, in a deal worth $2.5 billion, the companies announced Wednesday.
The deal will make the two a formidable presence in Asia as demands for automobiles drop off in Europe and the United States.
Volkswagen -- Europe's largest car maker -- will get a 19.9 percent stake in Suzuki. In turn, Suzuki will use half that money to buy shares in the German automaker.
"The management of Volkswagen and Suzuki have concluded that the complementary strengths of each company make for a perfect fit in exploiting their respective advantages, as well as rising to the challenge of the global market," Volkswagen said in a statement.
The deal is expected to be completed next month, pending regulatory approval.
The global financial downturn has slowed car sales in the United States and Europe. But the markets in India and China are rapidly growing.
Volkswagen is the second-biggest foreign automaker in China. And Suzuki makes half the cars sold in India.
"As demand continues to rise for smaller cars and for powertrains with higher fuel efficiency and lower CO2 output, Volkswagen and Suzuki will offer a compelling solution for customers in emerging markets buying a car for the first time and also for customers in advanced economies seeking to lower their CO2 footprint while still enjoying the freedom of transport offered by an exciting range of cars," the Volkswagen statement said.
Automakers have been struggling and realigning themselves.
Last week, PSA Peugeot Citroen of France said it might buy a stake in Mitsubishi Motors of Japan.
Over the summer, Fiat of Italy signed a strategic alliance with Chrysler.