British finance chief warns EU to leave London alone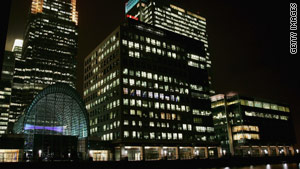 Alistair Darling says London is New York's only rival as a truly global financial center.
STORY HIGHLIGHTS
Alistair Darling: A "recipe for confusion" if institutions are supervised by EU as well as national watchdogs
Frenchman Michel Barnier is the new European Union's new Single Market Commissioner
Appointment welcomed by French President who hopes Barnier will take charge of City of London
Nicolas Sarkozy blames current financial crisis on the failed Anglo-Saxon model
(CNN) -- Britain's Finance Minister on Wednesday warned the European Union's new French finance chief not to interfere with the City of London.
Writing in the Times of London ahead of a meeting of EU finance ministers, Alistair Darling said it would be a "recipe for confusion" if institutions were supervised by the EU as well as national watchdogs and that Britain would not accept new laws that could lead to taxpayers picking up the bill for bailouts ordered by Brussels.
He said it was essential that national regulators like Britain's Financial Services Authority retained responsibility for supervising individual companies. He warned any change would drive financial services out of Europe.
"As Michel Barnier, the new EU Single Market Commissioner, takes over the reins of financial regulation, the stakes are high," he wrote. "Regulatory reform throughout the world is imperative, and Europe, home to the world's largest single market in financial services, has a particular responsibility.
"If we get it right, we have the potential to be the safest and strongest marketplace in the world, our regulatory framework a competitive advantage. Get it wrong and we risk losing business to less regulated jurisdictions. Nothing would be more self-defeating."
On Tuesday, French President Nicolas Sarkozy blamed the current financial crisis on a discredited Anglo-Saxon model, and that Barnier's appointment was a victory for European financial ideals.
"Do you know what it means for me to see for the first time in 50 years a French European commissioner in charge of the internal market, including financial services, including the City [of London]?" he asked reporters.
"I want the world to see the victory of the European model, which has nothing to do with the excesses of financial capitalism," he said.
However, Barnier appeared to take the sting out of Sarkozy's comments in a radio interview Monday. "I know the importance of the City. I know the importance of this major financial center for growth in Britain and for all of Europe's economy," he told Europe 1 radio, in quotes carried by Britain's Telegraph.
"It's not my job to be nice or nasty. I have to work in Europe's interest to draw lessons from the crisis, including in the City's interest to support this financial center, as well as others including Frankfurt and Paris."
Darling added that London can not be judged in the same way as other European financial centers.
"It is too simplistic to argue that financial centers in Europe are just competing among themselves," he said.
"The reality is the real competition to Europe's financial centers comes from outside our borders. And that London, whether others like it or not, is New York's only rival as a truly global financial center."