STORY HIGHLIGHTS
European markets stabilized after losses in Asia over Dubai debt fears
Dubai stunned global investors by calling for a debt "standstill" for Dubai World and Nakheel
U.S. traders will have first chance to react when Wall Street opens Friday
Nakheel is Dubai World's real estate arm, owns "The Palm Islands," and "The World"
London, England (CNN) -- The U.S. stock market opened lower on Friday as traders seized their first chance to respond to Dubai's debt problems.
The Dow started trading some two percent lower while Europe's main indices closed higher after recouping earlier losses.
Asian markets took a hit during Friday's trade after Dubai shocked investors by announcing it was requesting a debt freeze for at least six months for one of its biggest holding companies, Dubai World and its real estate arm, Nakheel.
The government timed the release on the eve of the Eid holiday to shield local markets from the full impact of the statement, averting a potential sell-off over fears that one of the region's biggest companies couldn't pay its debts.
International investors were outraged over the timing, especially in the U.S. where the Thanksgiving holiday limited their ability to respond to the statement by adjusting their holdings.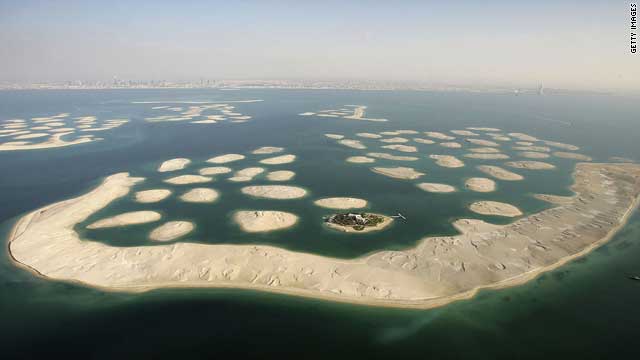 Gallery: Dubai developments
The Dubai government sought to explain its timing late Thursday in a statement which said that the Emirate understood "the concerns of the market and creditors in particular."
It added that, "our intervention in Dubai World was carefully planned and reflects its specific financial position."
"It's not specifically they want to destabilize western markets -- that wouldn't be in their interests," Stephen Pope, Chief Global Equity Strategist at Cantor Fitzgerald told CNN.
"The timing is more of a local idea -- they wanted to get the bad news out.. to allow the local markets to observe what's happening in the more sophisticated markets and react accordingly," he said.
Read CNN's John Defterios' take on the Dubai debt fears
Described on its Web site as "Dubai's flag bearer in global investments," Dubai World is a holding company with stakes in everything from ports to real estate and transport.
It includes the world's largest privately held real estate company Nakheel, which is the mastermind behind such architectural feats as the man-made residential islands, "The Palm Islands" and "The World."
Dubai World also invests in global markets through its investment arm Istithmar World, which boasts a "global footprint" in finance, capital, leisure, aviation and other business ventures.
Explainer: What is Dubai World?
Dubai World is said to account for some $59 billion of Dubai's $80 billion in liabilities. Nakheel had been due to pay a $3.5 billion convertible loan which expires on December 14. More debts were due to be repaid next year.
"This is not just a couple of billion story," Turker Hamzaoglu, EMEA economist at the Bank of America Merrill Lynch Global Research told CNN.
"For instance, Dubai has to service $10 billion including the Nakheel debt in December and $15 billion U.S. dollars by the end of 2010," he added.
Stephen Pope told CNN Dubai World's troubles are very unlikely to lead to another severe downturn in the global economy, because Dubai's GDP on the world stage is "minimal."
"We have to make the distinction -- it's Dubai World, not Dubai the Emirate. What I think you'll probably find that it sets the Emirate's plans back minimum five years, perhaps longer," he said.
Concern has already been expressed over the level of financial transparency in Dubai.
"I guess everybody is on the same page regarding the need for consolidation in Dubai and for the region. But the only market-positive implication would be if this comes with a clearly open and a predictable way," Hamzaoglu said.