BA reports record loss as strike looms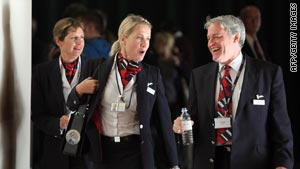 British Airways cabin crew attend a union meeting to discuss possible strike action, November 2, 2009
STORY HIGHLIGHTS
Falling revenue contributed to British Airways' biggest ever pre-tax loss
Airline posted pre-tax loss of than $485 million for the six months to September
Has cut costs by $665 million and plans to trim winter capacity by six percent, and ax jobs
Union Unite planning to ballot members over possible strike action over job cuts
London, England (CNN) -- British Airways reported a record pre-tax loss Friday of more than $485 million, another setback for the airline as it faces the threat of strikes over the Christmas period.
The loss covers the months of April through September, a six-month period that includes the usually-profitable summer months.
BA said passenger revenue was down 13.6 percent and cargo revenue was down 30.9 percent. The latter figure reflects a worldwide decline in demand for airfreight, BA said.
Chief Executive Willie Walsh said the airline had taken a number of cost-cutting measures to reduce the impact of the loss, ultimately reducing costs by $665 million.
BA reduced its summer schedule capacity by 3.5 percent and cut 1,900 jobs through reduced overtime, increased part-time working, and voluntary redundancies, Walsh said.
For the future, BA plans to cut winter capacity by 6 percent and eliminate 3,000 more jobs by March 2010, Walsh said.

Video: BA CEO on financial results
"With revenue likely to be 1 billion pounds ($1.66 billion) lower this year, we can't stand still and further cost reduction is essential," he said in a statement.
The news comes a day after the High Court in Britain refused to issue an injunction against BA that would have stopped the airline from taking even more cost-cutting measures.
The Unite union had asked for the injunction, calling the measures "unfair and unworkable."
BA plans to remove one cabin crew member from each long-haul flight and introduce a two-year pay freeze for its 14,000-member cabin crew, a BA spokesman said. Following Thursday's court ruling, BA plans to impose the new measures as planned November 16, the spokesman said. Blog: Can Willie Walsh keep smiling?
The airline's plans for cabin crew are just one of several complaints the union has with BA, and Unite still plans to go ahead with a strike ballot in the next few weeks, a Unite spokeswoman said Thursday.
Other issues include pay and jobs, the spokeswoman said.
Unite plans to ballot its members about whether to strike over the Christmas holiday period, which could bring further losses to Britain's flag carrier.