STORY HIGHLIGHTS
Opel workers in Germany strike Thursday over GM's decision to abandon sale of automaker
GM's Opel restructuring plan could eliminate as many as 10,000 jobs
U.S. parent company says improving business environment behind its decision not to sell Opel
GM said in March it wanted to sell Opel after reporting losses of $30.9 billion
(CNN) -- Thousands of Opel workers went on strike in Germany on Thursday in protest at the decision by U.S. parent General Motors to abandon the sale of the automaker.
GM shocked German public officials when it announced earlier this week its decision to keep its European Opel and Vauxhall units and cancel a planned sale to Canadian firm Magna.
If Magna had bought GM's European operations thousands would have lost their jobs in Spain and at Vauxhall plants in Britain.
After the announcement there were celebrations in Britain but fury in Germany, where thousands of workers fear they will face the axe.
"We want Opel to continue to exist," Hesse state Premier Roland Koch -- one of the biggest lobbyists for a sale to Magna and its Russian partner Sberbank -- told rallying workers at Opel headquarters in Ruesselsheim on Thursday, according to Reuters.com.
"We will have to fight again with the goal of saving jobs."
GM announced a restructuring plan for Opel that would include cuts of as many as 10,000 jobs at the European subsidiary. About half of Opel's 50,000 workers are based in Germany.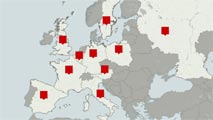 GM jobs across Europe

Video: UK thrilled over GM decision
The U.S. car giant confirmed in a statement to CNN that its revised viability plan for Opel "will likely include cuts in that range."
Jürgen Rüttgers, premier of North Rhine-Westphalia state, where GM proposes closing a factory, told the Financial Times: "General Motors' behaviour shows the ugly face of turbo-capitalism. That is completely unacceptable."
German Opel workers reject GM's restructuring plan for the company, which they believe will see a drain of vehicle development from Germany to the United States, Lorenz said.
Employees in Germany are not only unwilling to accept pay cuts moving forward, but they will also demand to be paid for concessions they have made, like giving up a scheduled pay rise in May, their 2008 Christmas bonus, and vacation pay for 2009, Lorenz said.
GM promised to work with all the European labor unions on a plan for Opel's restructuring.
The GM board of directors said an improving business environment over the past few months and the importance of Opel and its British brand, Vauxhall, to GM's global strategy were reasons to retain Opel.
The board said it would begin restructuring its European operations "in earnest" instead, according to a news release issued late Tuesday.
GM's decision is a setback for Magna, which agreed to purchase Opel and Vauxhall in September in a deal brokered by German Chancellor Angela Merkel. General Motors said in March that it wanted to sell Opel after it reported an annual loss of $30.9 billion for 2008.
Opel, together with Vauxhaull, is the fourth-largest car brand in Europe after Volkswagen, Ford, and Renault. It is also GM's largest-selling brand in Europe by far, representing more than 70 percent of GM's European sales.
While GM's decision may still mean layoffs as it restructures its European businesses, it may safeguard jobs in the short-term.
Employees at the Vauxhall plant in Ellesmere Port, England, welcomed the news.
"I think it's a good idea, really, because a lot of people will have jobs," one employee told Sky News.
"We've had a three-day week now for ages," said another man. "We've lost money, so now we're going to start getting some back."
The head of the Unite union, which represents Vauxhall workers, said he was "absolutely delighted" that GM will retain ownership of the brand.
"GM was once the biggest company in the world and we have no reason to believe that it cannot restructure itself to address its present difficulties," Unite Joint General Secretary Tony Woodley said.
"My worry is that they would be forced to spin off their UK business to Magna, which simply does not have the expertise to run a global car company."
CNN's Fred Pleitgen in Berlin, Germany, contributed to this report