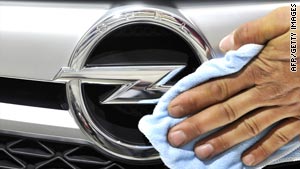 GM says its Opel and Vauxhall units are important to its future global strategy.
STORY HIGHLIGHTS
NEW GM's Opel restructuring plan could eliminate as many as 10,000 jobs
GM says improving business environment behind its decision not to sell Opel
Decision a setback for Canadian firm Magna which was in line to buy auto unit
GM said in March it wanted to sell Opel after reporting losses of $30.9 billion

London, England (CNN) -- The restructuring plan of Opel by automobile giant General Motors would include cuts of as many as 10,000 jobs at the European subsidiary.
GM confirmed in a statement to CNN that its revised viability plan for Opel "will likely include cuts in that range."
GM shocked German public officials when it announced earlier this week its decision to keep its European Opel unit and is canceling a planned sale to Canadian firm Magna.
The GM board of directors said an improving business environment over the past few months and the importance of Opel and its British brand, Vauxhall, to GM's global strategy were reasons to retain Opel.
The board said it would begin restructuring its European operations "in earnest" instead, according to a news release issued late Tuesday.
GM's decision is a setback for Magna, which agreed to purchase Opel and Vauxhall in September in a deal brokered by German Chancellor Angela Merkel. General Motors said in March that it wanted to sell Opel after it reported an annual loss of $30.9 billion for 2008.
Magna issued a statement saying it will continue to support Opel and GM despite the canceled sale.
Opel, together with Vauxhaull, is the fourth-largest car brand in Europe after Volkswagen, Ford, and Renault. It is also GM's largest-selling brand in Europe by far, representing more than 70 percent of GM's European sales.
While GM's decision may still mean layoffs as it restructures its European businesses, it may safeguard jobs in the short-term.
Employees arriving at the Vauxhall plant Wednesday morning in Ellesmere Port, England, welcomed the news.
"I think it's a good idea, really, because a lot of people will have jobs," one employee told Sky News.
"We've had a three-day week now for ages," said another man. "We've lost money, so now we're going to start getting some back."
The head of the Unite union, which represents Vauxhall workers, said he was "absolutely delighted" that GM will retain ownership of the brand.

Video: UK thrilled over GM decision
"GM was once the biggest company in the world and we have no reason to believe that it cannot restructure itself to address its present difficulties," Unite Joint General Secretary Tony Woodley said. "My worry is that they would be forced to spin off their U.K. business to Magna, which simply does not have the expertise to run a global car company."
Woodley said he knows restructuring is necessary, but he hopes the British government will now step in to help GM maintain its Vauxhall business.
British Business Secretary Peter Mandelson said the government would support GM's decision if it is sustainable. He said he wants to discuss GM's plans with the company.
Workers in Germany weren't as pleased with the news.
The German Metal Workers' Union, which represents Opel workers, called for protests at the main Opel plant in Ruesselsheim, Germany, on Thursday. The action would see all workers at the plant walk out for several hours during the course of the day and the union called on other Opel plants to join in, said IG Metall representative Guenther Lorenz.
German Opel workers reject GM's restructuring plan for the company, which they believe will see a drain of vehicle development from Germany to the United States, Lorenz said.
Employees in Germany are not only unwilling to accept pay cuts moving forward, but they will also demand to be paid for concessions they have already made, like giving up a scheduled pay rise in May, their 2008 Christmas bonus, and vacation pay for 2009, Lorenz said.
GM promised to work with all the European labor unions on a plan for Opel's restructuring.
"While strained, the business environment in Europe has improved," said GM President and Chief Executive Fritz Henderson. "At the same time, GM's overall financial health and stability have improved significantly over the past few months, giving us confidence that the European business can be successfully restructured."
Opel is a German automaker that GM has owned since 1929, except for a period during Germany's Nazi era.
The initial plans to sell Opel called for Magna -- along with Russia's Sberbank -- to take over 55 percent of Opel. Opel's employees would own another 10 percent, leaving GM with just 35 percent.
The German government was involved in intense negotiations with GM and had publicly been pressing for the Magna deal.
Earlier this year, the German government loaned Opel $2.1 billion to assist with completing the deal with Magna. At the same time, 65 percent of Opel's stock was transferred into a trust controlled jointly by representatives of GM and the German government.
The German government has demanded that the money be returned by Nov. 30.
GM's Henderson thanked Germany for its role in negotiating the now-canceled sale.
"We are grateful for the hard work of the German and other EU governments in navigating this difficult economic period," he said. "We're also appreciative of the effort put forward by Magna and its partners in Russia in trying to reach an equitable agreement."
Opel was always going to be a part of GM's business because, in addition to being a car manufacturer, it has become the main source of engineering for GM's small and mid-sized cars.
Models such as the Chevrolet Malibu and the new Buick LaCrosse sedan share much of their engineering with Opel cars, as will several future models GM has planned for sale in the United States and other markets.
CNN's Fred Pleitgen in Berlin, Germany, contributed to this report