Versace to cut 25 percent of workforce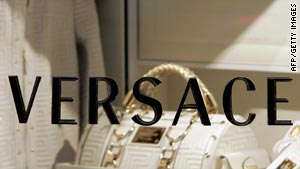 STORY HIGHLIGHTS
Milan-based Wesace says approximately 350 positions will be cut
Label also plans cuts at production facilities, a review of its store network
Versace is one of the world's leading fashion design houses
(CNN) -- Fashion house Gianni Versace will cut 25 percent of its global workforce by the middle of next year as part of cost-saving measures, a spokeswoman told CNN on Wednesday.
Approximately 350 positions will be cut, said the company, which is headquartered in Milan, Italy.
In addition to the job cuts, Versace Group also plans cuts at production facilities, a review of its store network, a reduction in capital investment in 2010, and a cut in overhead costs, a statement said.
"Trading conditions in the wake of the global financial crisis have been severe and the company expects to make a loss in 2009," said Chief Executive Gian Giacomo Ferraris.
"No organization can allow a situation like this to continue, especially considering the flat outlook for 2010."
Versace is one of the world's leading fashion design houses and a symbol of Italian luxury. It designs, manufactures, distributes, and retails its products, which include fashion, home furnishings, and fragrances.