LONDON, England (CNN) -- British Prime Minister Gordon Brown unveiled plans Monday to sell off state assets worth an estimated £16 billion ($25 billion) as part of moves to reduce the UK's national debt.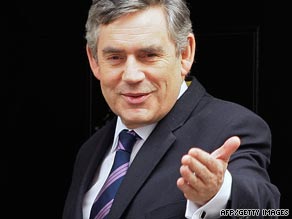 Brown said curbing stimulus spending risked "snuffing out" economic recovery.
The portfolio of "non-financial assets" set to be sold within the next two years include the Channel Tunnel rail link, student loan debt and the government's share in a uranium-processing company, Urenco.
Brown's government has pumped billions of pounds into the UK economy as part of its economic stimulus program, prompting opposition concerns over the growing fiscal burden of state debt.
But Brown told economists in the City of London on Monday that premature cuts in spending risked "snuffing out" the country's recovery from recession and said that growth coupled with a sensible deficit-reduction plan would be crucial to paying down debt over the next decade.
He said tax changes worth £13 billion by 2013-14 and a crackdown on tax evasion would also held reduce the deficit.
"We have said very clearly that we will reduce the deficit by half over the next four years," Brown said. "We need a deficit reduction plan that supports growth and jobs not one that snuffs out recovery before it has started."
Other assets set to be sold include the Tote, a state-owned bookmaker, and the Dartford Crossing -- a road toll bridge over the Thames between Essex and Kent to the east of London.
Speaking on the BBC, Business Secretary Peter Mandelson said the selloff would enable the government to "plug the hole" in national finances while avoiding "savage cuts" in spending he said were advocated by the opposition Conservative Party.
Conservative leader David Cameron said selling assets was necessary but said Brown needed to avoid "any more incompetence." Cameron said Brown had sold off state gold assets at a time when, had the UK held onto them, they would later have been worth four times the sale price.
"We have still got to get to grips with public spending, get to grips with the deficit.," said Cameron, according to the UK's Press Association.
"We must make sure we get good value for money, this is the Prime Minister who sold our gold reserves and if he had sold them later would have got four times the quantity. Let's not have any more incompetence from him."
E-mail to a friend