By Ralph Atkins





VENICE, Italy -- Eurozone interest rates were left unchanged on Thursday at the record low of 1 per cent, highlighting the European Central Bank's caution about the strength of the region's economic recovery.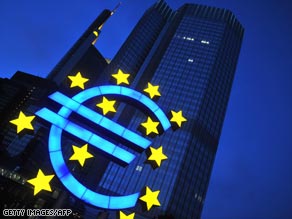 The ECB remains cautious about the strength of the eurozone's economic recovery.
The decision, which was expected, came at a meeting of the ECB's governing council in Venice, Italy. Although the eurozone economy is thought to have moved out of recession in the three months to September, Jean-Claude Trichet, ECB president, has warned of a "bumpy" ride ahead and of the exceptional uncertainty clouding the economic outlook.
Eurozone inflation also remains negative with consumer prices 0.3 per cent lower in September than a year before. That amounted to a further massive undershooting of the ECB's target of an annual inflation rate "below but close" to 2 per cent. At the same time the strength of the euro, on a trade-weighted basis and against the dollar, further strengthened the case for the ECB remaining firmly on hold.
Twice a year the ECB holds its governing council meetings outside Frankfurt, Germany, where is has its headquarters.
Optimism about the eurozone economic recovery was boosted by better-than-expected German industrial production data for August, showing a 1.7 per cent rise compared with the previous month. But growth across the eurozone is expected by economists to remain weak for some time. Earlier this week, second quarter growth figures were revised downwards to show a quarter-on-quarter contraction of 0.2 per cent, compared with the 0.1 per cent originally reported.
Financial markets will be looking for clues from Mr Trichet's press conference on Thursday afternoon about whether the eurozone's monetary authority has turned more upbeat on the eurozone economic outlook, and whether it has moved any closer to unwinding the exceptional measures it took to combat the global economic crisis. This week the ECB reported plunging demand from eurozone banks for emergency three-month and six-month liquidity -- which added to evidence that financial markets have moved to more normal conditions. But Mr Trichet has so far signalled that the ECB is in no rush to implement an "exit strategy".
The European Commission's "annual statement" on the euro earlier this week, argued that the currency had "acted as a valuable shield in the crisis". But the Brussels executive expressed concern about diverging economic performances within the eurozone. Germany and France have returned to growth but signs of a recovery are less evident in Spain and Italy. Such differences have complicated the task of the ECB in setting a monetary policy for the entire eurozone.
E-mail to a friend