By Victor Gao
For CNN





Editor's note: Victor Zhikai Gao currently practices private equity consulting and serves as a director of the China National Association of International Studies. He was a former employee of China's Ministry of Foreign Affairs and served as interpreter for senior Chinese officials.
(CNN) -- At the UNIDO/UNEP/UN ESCAP/ILO conference on green industry in Asia, held in Manila, the Philippines in the second week of September, I proposed the formation of an International Green Finance Association in support of green industry and green economy in general.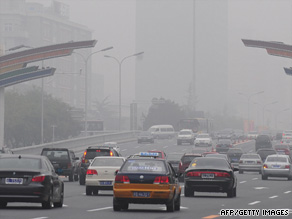 Pollution hangs over Chang'An Avenue near Tiananmen Square in Beijing, China, at the end of September.
In terms of its industrial development, China has made phenomenal achievements during the past 30 years. By now, China has become the largest exporter in the world, and the third-largest economy according to the nominal exchange rate, and the second-largest economy if one uses the World Bank and IMF calculations based on purchasing power parity. Whereas the industrial production only accounts for less than 20 percent in the U.S. economy, it accounts for approximately half of the Chinese economy. This means that, even as of today, China's industrial production may already be larger than the United States.
Given the fact that the Chinese economy is still expanding rapidly, whereas the U.S. economy is barely growing at all and has huge wounds to lick, barring major man-made or natural disasters, the Chinese economy may be larger than the U.S. economy in a matter of a couple of decades, that is to say, during our lifetime.
China's economic miracles have been achieved mostly using the traditional growth method, that is highly labor-intensive and resource-intensive. This method of growth is simply not sustainable. Even though China has made huge progress in energy efficiency in recent years, China still lags far behind more energy-efficient countries like Japan.
On the other hand, even though still ranking low as an emitter on a per capita basis, China has become, alarmingly, the largest emitter in the world, surpassing the United States during the past couple of years. Of course, many Chinese officials and scholars are eager to explain that, because a significant portion of the energy and resources consumed by China will be translated into the huge amounts of goods that China exports all over the world, China's emission should not count completely as China's liability.
However, there is no denying that China and the United States, as the two largest emitters in the world, have an unshirkable responsibility to themselves as well as to the rest of the world to take a leadership role in conserving energy and reducing emission, and in going green in economic development. In facing the threat of global warming, there is no artificial barrier or national wall to hide behind, and finger-pointing not only does not solve problems, but may even further poison the environment, political as well as natural.
As far as the danger of global warming is concerned, many politicians and many countries may have already moved from "not knowing" to "knowing" the danger. The challenge today is to move from "knowing" to "doing," and to move from "doing a little bit" to "doing more." Mankind has no time to waste anymore.
In order to transition to green industries and green economies in general, there are so many things we need to do, individually as well as collectively, nationally as well as internationally, and each is a top priority.
One thing urgently important is "green finance." As a matter fact, "green finance" is one missing link between "knowing" and "doing" in the transition to green industry. All green industrial propositions cost money, and many green industry business models are more often than not untested or unconventional. Therefore, traditional finance may find it difficult or commercially unattractive to finance these green industrial propositions. Therefore, despite all the eloquent public statements and pronouncements, it will be difficult, if not impossible, to transition to green industry without "green finance."
"Green finance" may cover all the financial services related to the promotion and development of green industries and green economies in general, including government financial policy support, banking services, insurance, guarantees, venture capital, private equity, capital markets, CDM trading, or "cap and trade" as U.S. President Barack Obama calls it, etc. "Green finance" is an important lubricant in the transition to green industry.
In essence, green industries need "green finance," and "green finance" cannot be over-emphasized in the transition to green industries. Without green finance, many grand concepts of green industry may just remain on the drawing board, without a chance of being implemented.
Therefore, it will be important for various international organizations, non-governmental entities, various banking and financial institutions and governments in various countries to support the formation, at the global level, of an "International Green Finance Association," aimed at promoting the growth of green finance in support of green industry and green economy in general.
Members and supporters of such an international association may include bankers, financiers, guarantee companies, insurance companies, venture capital firms, private equity firms, CDM traders, various non-governmental organizations, government policy makers in the relevant sectors, relevant international organizations, as well as the recipients of green finance, i.e. all the participants and stakeholders involved in building and promoting green industry and green economy in general.
At the national level, we need to encourage the formation of the various National Green Finance Associations in various countries in the world, and such national associations can be members of the IGFA. This can be done either through a top-down approach, or a bottom-up approach.
The formation of the green finance associations, both at the global level as well as at the national level, will make a great contribution to the transition to resource-efficient and low-carbon industries, i.e. green industry and green economy in general.

All the eligible persons and institutions will be encouraged and urged to support the activities of these green finance associations by becoming their members, sponsors and promoters and, individually and collectively, support and promote green finance in support of green industry and green economy.
The International Green Finance Association and the various national green finance associations will compare notes and share lessons and experiences, exchange ideas, set up benchmarks, guidelines and good practices, provide training, disseminate information and publish news, handbooks, manuals and yearbooks to promote green finance in support of green industry and green economy in general.
E-mail to a friend

All About United Nations Framework Convention on Climate Change • China