(CNN) -- Reinhard Mohn, who turned his family's religious publishing company into Bertelsmann AG, one of the world's largest media conglomerates, died Saturday, the firm announced Sunday.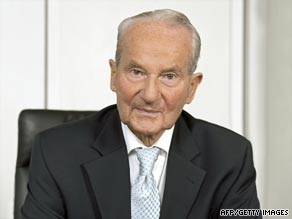 Mohn was the fifth generation to head Bertelsmann AG.
Mohn, who was 88, and his family were worth $2.5 billion, Forbes magazine estimated in its annual rich list in March, making them the 261st wealthiest family in the world. They own 23 percent of Bertelsmann, with the rest controlled by a trust Mohn established.
The company owns Random House -- publisher of Dan Brown's "The Lost Symbol," as well as authors ranging from Stephen King and John Grisham to Toni Morrison and John Updike.
It also controls RTL Group, Europe's largest broadcasting company; magazine publisher Gruner + Jahr, which publishes the German magazine Stern; and Direct Group, a media-marketing firm.
"Bertelsmann mourns the loss of one of the greatest entrepreneurs of our age," Bertelsmann chairman and CEO Hartmut Ostrowski said in the statement announcing the death.
"He embraced his responsibility to society and developed new ideas systematically, and with impressive consistency. Reinhard Mohn's concept of leadership was based on values like liberty and humanity," Ostrowski said.
"In his over 60 years of active service, Reinhard Mohn built Bertelsmann into an international enterprise, which today employs more than 100,000 people in over 50 different countries," the firm said.
Mohn, the fifth generation of his family to head the company, took over after serving as a German officer in World War II, when he was captured and imprisoned by the Allies.
In 1950, he presided over the publisher's creation of its own book club, which became the company's "silver bullet," attracting 3 million members by 1960, according to an official company history.
Bertelsmann expanded into encyclopedia publishing and the music business in the 1960s, and introduced an employee profit-sharing scheme in 1970, earning its head the nickname "Red Mohn."
"Only those enterprises whose employees can identify with their company will be fit to master the challenges of the future, and such an attitude requires material justice," Mohn said at the time, according to the company history.
The company's other businesses have included Sony BMG and AOL Europe.
Mohn retired in 2001, according to Forbes. His widow, Liz, remains on the firm's supervisory board.
E-mail to a friend