(CNN) -- Australian Prime Minister Kevin Rudd said the world needs a "new, sustainable growth model for the future" to reduce "massive financial imbalances" between consumer-driven economies in the West and developing economies in the East.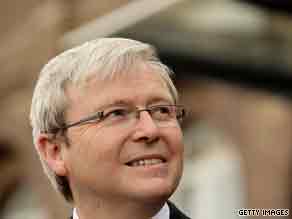 Australian Prime Minister Kevin Rudd believes new model for global growth needed.
"Otherwise we may be looking at the prospect of flat global growth for a while to come," Rudd said in an interview with CNN's Isha Sesay ahead of the meeting of the leaders of the G-20 economies in Pittsburgh this Thursday and Friday.
Rudd said world leaders have two major challenges ahead of them: how to create a framework of coordinated withdrawal of government stimulus packages, which has totaled $5 trillion by G-20 nations since the start of the crisis, and to develop a new model for long-term growth that rebalances the consumer-led purchases of developed nations like the U.S. and surplus export trade from developing nations like China.
"How do we craft a long-term economic growth strategy which is sustainable for the world, no longer dependent on these massive financial imbalances -- huge debt-ridden consumption on the one hand and surplus economies on the other?" Rudd said.

Rudd said the G-20 has an important responsibility to tackle the issues -- small in nature, yet which in total represent "85 percent of the global GDP, 80 percent of global trade and I believe 90 percent of global stock market capitalization."
Australia was the only major developed economy that has not slipped into recession, Rudd said.
E-mail to a friend