(CNN) -- OPEC on Thursday agreed to leave current production levels unchanged, citing an oversupplied market and "downside risks associated with the extremely fragile recovery."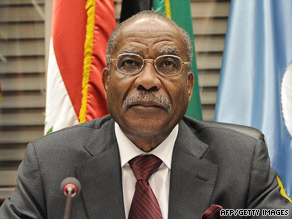 OPEC president Jose Maria Botelho de Vasconcelos of Angola opens the OPEC meeting in Vienna Wednesday.
The announcement came as oil prices rose above $72 a barrel.
Gathering in Vienna, Austria, for two-day talks, the 12-nation Organization of the Petroleum Exporting Countries said, "whilst there are signs that economic recovery is underway, there remains great concern about the magnitude and pace of this recovery."
"Market fundamentals remain weak, refinery utilization rates are low and product inventories have risen considerably," it said in a press release on its Web site.
The conference "reiterated its determination to ensure sound supply fundamentals and an adequate level of spare capacity for the benefit of the world at large," OPEC said.
In his opening address Wednesday, OPEC president and Angolan Oil Minister Jose Maria Botelho de Vasconcelos noted the effect of high levels of speculation and the "timing, the extent and the pace of global economic recovery."
OPEC member nations produce about 40 percent of the world's crude oil and 15 percent of its natural gas, the organization said.
The conference will reassess the market situation at a meeting in Luanda, Angola, on December 22.
OPEC comprises Algeria, Angola, Ecuador, Iran, Iraq, Kuwait, Libya, Nigeria, Qatar, Saudi Arabia, United Arab Emirates and Venezuela.
E-mail to a friend

All About OPEC • Oil Prices